Mod you can decide what to do with this: sticky, FAQed, or (hopefully not) trash it.
Version 1.0
Version 1.1 Systema PTW info updated, minor mistake fixed.
Intro:
Since I've been getting more people asking these days which one is better I've decided that I'll just post a thread I can referred to later on. The main reason I did not put compare with AEG is simply, I've never own one nor game one. I've held it and fire it before though. Up to this date, I've owned
Three gas blow-back rifles (Magna system only), one Systema PTW, and one Daytonagun External Air (commonly referred to as Classic Airsoft). I will admit I do have some biased from my past experience in working with them due to frustrations (actually all of them gave me some at one point, just the severity of it.)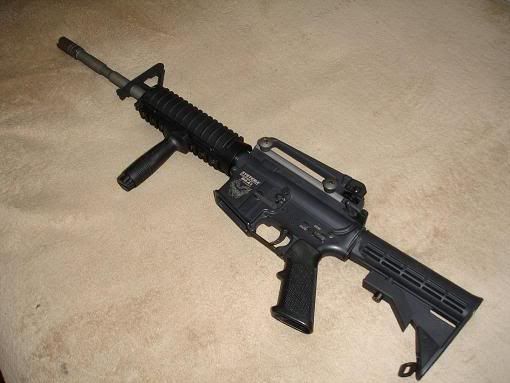 (Systema PTW Gen IV MAX w/ LiPo mod...ooops forgot trigger lock)
Systema PTW
I referred to as a glorified, elite grade AEG, this was first introduced in 2004, since then there are many generations of PTWs, I will use the Gen IV as the one to refer on as it is the most common and the one I owned. The cost of this Airsoft gun can be range from $1000 in a used one to $2500 for a brand new Gen V Supermax. The main featured about the PTW is that it has a simulated bolt catch system which when the last bb is shot out, the gun will not dry fire. You will need to replace with a loaded magazine (or just remove it) and press the bolt catch to be able to fire again. In addition, the Systema ptw feature electronics where it will ensure every cycle will complete regardless the amount of time you held down the trigger as well as the spring will always remain uncompressed. The last selling feature of the PTW over AEG is that the outer dimension will be the exact same as a M4 Carbine or M16 Rifle in it's respective barrel length.
(Prime DIY Custom Magpul GBBR, it's actually a airsoft gun not a firearm)
Gas Blow-back Rifle
(GBBR or known as Gas-In-Mag Rifle)
This was first widely introduced in 2008 by Western Arms in it's Magna system then subsequently Wei Tech's AFC (modified escort system) along with many clone company dipping in. The GBBR will be split into three section depending on it's system that was based on.
Magna System
by Western Arms
The Magna system is the most popular system featuring complete identical operation both inside and outside as M4/M16 rifle. Compared to other GBBR system available its selling point is the wide variety of aftermarket parts (external and internal) available making it the only GBBR capable of building from parts. Another selling point for this system is the ability to see if the magazine or the gun is loaded by viewing into the ejection port when the bolt carrier is pull or held back.
Modified AFC System
by Wei-Tech
The AFC system is the second most popular system featuring complete identical operation on the outside and near identical operation in the disassembly with M4/M16 Rifle. It also feature complete 1:1 dimension as the firearm counterpart unlike Magna System which is 3/64 inch shorter in length than the firearm counterpart. The biggest selling point of this system is the number of models available (AR-15, SCAR, PDW, M14, L85 as opposed to AR-15, and PDW for Magna). Another selling point is that it's the only GBBR system which offer CO2 magazine, allowing use in cooler temperature.
Tanio-Koba System
by KJW
The newest system is the Tanio-Koba System featuring identical operation of the rifle from the outside with M4/M16 Rifle. It's biggest selling point is the reliability, and the gas efficiency of the system compared to the two mentioned above.
(Daytonagun LCT AKS74M)
Classic Airsoft
I referred to the Escort design or External Air as most available classic Airsoft in the world is using escort system (some BV system may be floating around, but I will not be talking about it). This system is the predecessor of AEG, it is run by an external tank and a hose into the Airsoft gun. Its biggest selling point is the reliability and the minimal cool-down effect produce by endothermic reaction from propellant. Another benefit of this system is the recoil produce by the Escort system is stronger than any other Airsoft systems available.
Comparisons:
To fairly assess each pros and cons I will determine it by:
Cost
Variations
Realism
Reliability
Game-ability
Cost:
In most airsofter's mind, the cost of the Airsoft rifle will greatly determine which system would be the better choice. I will assume that everyone is completely new (and does not want a clear lower receiver), does not have any accessories to the system and it will be used as a standard rifleman loadout. The cost includes:
Rifle itself,
Mandatory modification parts to use it (for safety reasons),
Power Source for the Airsoft gun, (CO2 for External, and Propane for Internal)
And seven magazines (by the same company whom made the Airsoft gun) total.
Base cost of the rifle: (Note this is the price from the same retailer, note that models where SAFESOFT or CANSOFT models is popular the prices is lower)
Systema PTW Gen IV Max M4A1: $1900
G&P WOC13 M4A1 GBBR: $1040
WE M4A1 Gen IV GBBR: $670
KJW (Standard) M4A1 GBBR: $770
Daytonagun (D-Boy body) AK74M GBBR: $1400
Factoring the load out as mentioned above,
Systema PTW Gen IV Max M4A1: $2400
G&P WOC13 M4A1 GBBR: $1350
WE M4A1 Gen IV GBBR: $985
KJW (Standard) M4A1 GBBR: $1080
Daytonagun (D-Boy body) AK74M GBBR: $1670
Base on that data, the best choice would've been WE & KJW System, however, if you are willing to use cansoft version or second hand, the prices is around: (for a basic load out)
Systema PTW Gen IV Max M4A1 Second Hand: ~$1600
G&P WOC13 M4A1 GBBR Cansoft: ~$880
WE M4A1 Gen IV GBBR Cansoft: $775
KJW (Standard) M4A1 GBBR Cansoft: $770
Daytonagun (D-Boy body) AK74M GBBR Safesoft*: $1070
*Importing using Safesoft method, DO NOT ASK ME UNLESS YOU ARE AGE VERIFIED
With the new factored in, the GBBR system as a whole wins in the cost...assuming no parts break, this leads us to next topic: Reliability.
Reliability
Right of the bat, I'll tell you there's many debate around this reliability issue. I'm expecting that some people will say otherwise, so additional experts in the field will help myself correct it is appreciated.
To keep this short, I'll just say the common problems with each system.
Systema PTW:
See McGuyver's Post, he's more experienced than I am.
(McGuyver you need to help me with this, I'm not extreme fluent with PTW)
Most three common problems are electronic board failure, sector gears, and motor. Electronic board usually are damaged by heavy mositure such as submerging the ptw in water, this is fixed by a moisture proof mod, if the electronic board are damage one can face with $80-$200 replacement bill. Sector gear are also prone to damage, however, this is usually happen if one uses Li-Po or higher-than-recommended voltage battery with low velocity cylinder causing insane velocity the cost of repair can be from $50-$150. An example of Li-Po on PTW's ROF can be shown by a 9.6 Systema battery on M110 usually produces around 850-900rpm; an 11.1V firefox battery on M110 produces 1100-1300rpm. Finally the motor failure is a design flaw known amongst PTW community it usually happens to a post 2008, unmodified motor with high round count 10k+. This can be fixed by a motor mod or rewinding. Cost of preventing is around $75, and cost of replacing a motor is around $150.
In General, PTW aren't prone to problems, but when it does, the bill is not small. One can prevent these problems by doing the motor mod by ptw doc and avoid experimenting the ptw.
GBBR:
In General, the GBBR has more parts breakage than any other systems. Most parts breakage not extremely expensive to repair, but more or so annoying. Common breakage part are bolt carrier, nozzle, magazine and sometimes hopup. KJW is the only clear winner in term of reliability compared to Magna and AFC system where 10k round count without failure is common. The AFC system often suffer parts break down due to inferior quality of material used whereas Magna system suffer due to design flaw.
The easiest solution to GBBR problem is simply be knowledgeable to disassemble the magazine and stop the leakage as well as carrying backup complete bolt carrier. For AFC system, it's best to upgrade to a third party parts such as RA-Tech.
---
Magna System:
This is the only system I'm familiar with; it is also the only system needs special attention. Parts breakages are most common in:
Nozzle breaking from double feeding, (aluminum nozzle or less stiffer recoil spring can reduce the breakage)
Bolt Carrier failing to lock back after magazine is empty, (can be fix by using higher quality (material wise) bolt carrier in CNC aluminum or steel).
Magazine leaking, (can be fix by using G&P O-ring kit, lithium grease or higher quality magazine like GHK, Pro-Win)
Escort System:
If General guns in this system either breaks easily or it doesn't break, simply base on the manufacture. A Daytonagun rarely breaks (if it does warranty helps reduce the cost down to shipping only) where as escort parts can wear out relatively easy (example is the escort MP5 bolt carrier). However, an important thing to note is that Justin from Daytonagun is willing to make custom part replacement ending future breakage unlike GBBR systems. In a case study happened to myself during a game was the accidental burial of my Daytonagun AK into sand, (the entire trigger mechanism will full of sand) with only a few shake magazine removed the gun happily continue to fire only reduce its Rate of fire slightly from 800 to 650rpm. In this scenario, I doubt any other system could replicate (Basically take your gear box apart just to get sand fill in it then reassemble without cleaning)
To summarize it up,
PTW rarely, breaks, if it does expecting hefty bill
GBBR often, breaks, expecting frustration and constant bills
Escort System rarely breaks; if it does custom parts at reasonable price can end the problem.
In ranking of most reliable I would put as followed
1) Escort System
2) PTW System
3) Tanio-Koba System
4) AFC System
5) Magna System
Variations
A Simple chart would explain this faster:
PTW: AR-15 Variants (Three Total) and MP5 (discontinued)
GBBR:
• Magna: AR-15 Variants(Too Many to count), PDW, and G36 (in prototype)
• WE: AR-15 Variants(Five Total), PDW (Two Variants), SCAR, (L85, M14, G36) in prototype
• KJ: M4A1 ONLY
External Air: AR-15 Variants (custom built for you), MP5, AK Variants, SR-25, MP44, MP40, (FNC, FAL, Bizon) in prototype
To rank it up,
GBBR wins in terms of variation with Escort Second and PTW dead last. This is base on accessible variant as External Air has a lot more variants, however, most are discontinue and extremely rare.
Realism and Game-Ability
For realism, each system has its own pros and cons which will depend on the player.
PTW:
Wins for external functioning hands down as well as game-ability, but it suffers most in lack of recoil
GBBR:
Wins clearly in terms of operation, and recoil but suffer greatly in cool-down effect
External Air
: Is in between PTW and GBBR where it has stronger recoil, less cool-down effect but it suffers in terms of flexibility where a hose and a tank will be needed outside the Airsoft gun.
In terms of Game-Ability, this is once again dependent upon the user.
PTW:
can compete and often win when compared to AEG due to its more flexible in weather, and ability to keep rounds on target. In addition, it has the ability to hold larger capacity of magazine to counter High-Caps. The biggest downside is the without moisture proofing, raining days might keep cautious player away from a game.
Weather:
Any day without too much moisture (thawing snow days and raining not advisable)
Game:
From simple skirmish to hardcore mil-sim
Rounds down range:
Approx the same as AEG, but has more accuracy out of the box.
GBBR:
is often referred to as the fun gun or mil-sim gun. It requires complete different tactic compared to typical AEG. The operation of the Airsoft gun is good for people who use/ play firearms as it's extremely similar. The biggest difference compared to an AEG is the noise generates can scare people as well as the recoil gives a positive response. It's biggest downside is the low-magazine capacity and the cool down effect preventing any effective full auto use.
Weather:
Temperature restricted works best in 30+ weather (with fps regulator) good in 18-28 degrees, functions 5+ degrees.
Game:
Mil-Sim, High Cap game is a death move essentially
Rounds down range:
Low, accuracy can be affected by recoil.
External Air:
is a love or hate system. One either accepts the hose and the tank or not. Once the hose and the tank issue is through, the application of this system can compete both in near absolute realism and regular skirmish. The biggest benefit is the ability to use AEG (PTW in some cases) magazine while having heavier sustainable recoil compared against GBBR.
Weather:
All weather will work, it might not work in its best, but it WILL work (If you use CO2 in winter)
Game:
Any Game
Rounds down range:
Slightly lower than AEG if one uses CO2 Tank due to its cool down if it's use as suppressive fire and recoil will throws rounds off target on auto.
Conclusion:
Dependent upon what's most important to you here's what I recommend.
Low Cost: AEG (I'm not joking, these system are not for <$1000 budget)
Cost:
---Short Term: GBBR
---Long Term: External Air
Reliability:
---Factor in Cost: External Air, PTW, GBBR
---Without Cost: PTW, External Air, GBBR
Realism/ Fun:
---Nay to Tank n Hose: GBBR, PTW, External Air
---Okay to Tank n Hose: External Air, GBBR, PTW
Game-Ability (in various condition and game types): External Air, PTW, GBBR
Bandwagon: AEG, GBBR, PTW, and far dead last External Air
Personally for me, I like External Air, I have no plans ever to goto AEG (too unrealistic), nor PTW (too expensive to fix if broken).
Side note:
-All the pictures above are my own, to reduce permission issue etc
-The info about Systema PTW maybe incorrect, and is subject to change, hopefully a PTW gun doc can fix it. All the problems are based on PTW forum info.
-Just to reiterate it, don't ask me about PTW, only thing I learned from it is it's expensive if you need to fix it.
-If you need help pm me about Magna System GBBR, DON'T ask me about WE or KJW
-I'm still trying to familiarize with Daytonagun's Escort system, I may be able to help.