Hey Everyone,
First and foremost, I'd like to thank Element Airsoft for their AMAZING service and the samples for this review. I cannot thank them enough for continually bringing us good and affordable products.

Today, I bring you the highly awaited and newly released Element Advanced Illuminator Combo(EX 179). This bundle deal includes a functional AN/PEQ-16A, M3X, and a Dual Switch. These items have just been released individually at Hong Kong retailers and the complete bundle has yet to be seen. The AN/PEQ-16A Mini, can be found at Ebairsoft for $59.90 in both black and FDE. The M3X lights, which come in two varieties: pistol and long gun, can be found for $57.50 and $58.50 respectively. The Dual Switch is not available from Ebairsoft at the moment but it is in stock over at Boomarms for an extremely affordable price of $12 plus shipping.
The real-deal counterparts of the replicas in this review are made by an American Company by the name of Inisght Technology, which offers a variety of visible and infrared lasers and illuminators/weaponlights. Insight Technology is known as one of the best in the business for they are the main supplier to the U.S. Special Operations Forces and ground infantry. Insight Technology aiming and illumination devices have been incorporated into the Block I and Block II SOPMOD programs for the past 15 years and they're still going strong. The following items I am bound to review pertain to the current line of Block II SOPMOD accessories, which is the kit that soldiers use to equip their M4/M16 service rifles with.
The Element replicas are not cross-compatible with any of the REAL Insight Technology parts or pressure switches. These are for airsoft only.
Without further ado, here's what we have all been waiting for.

The AN/PEQ-16A and the M3X came in plain cardboard boxes, nothing to hold them in place. There is no foam nor a semi-clear plastic case like the real deal. There was no damage whatsoever upon arrival but the packaging could have been better in terms of protection just to be on the safe side. The Dual Switch came in your typical, durable plastic bag with cool logo and art that Element uses all the time.
The plastic used throughout the items is a slightly texturized, high-quality ABS plastic in FDE. It is comparable to the plastic used on the functional G&P AN/PEQ-2A and that thing is bulletproof so the element items should be good to go. The plastic does seem really solid and strong but it isn't high-grade fiber-reinforced polymer like that of the real thing and remember, this is made for airsoft.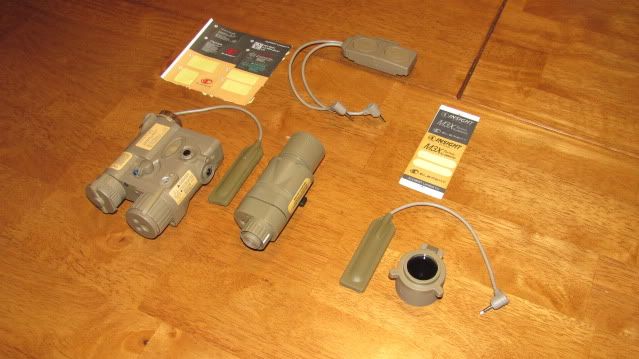 The PEQ is made of two molded halves that are held together by hex and phillips head screws. The PEQ walls are about 2mm at the widest point and the PEQ itself is very sturdy with no creaking, wobble, or flexing. The mounting clamp is made out of aluminum while the thumbscrew and bracket are made out of steel which means no stripped threads when tightening. The battery cap is made out of aluminum and anodized in a golden/bronze color that isn't really "FDE". However, it rides the brass threads smoothly and does its job so no complaints there. All the stickers on the PEQ coincide with the real Insight stickers but the Element counterparts have a very slight mustard tone to them instead of being straight FDE/Tan but again, no biggie since it still looks good. The rubber used on the straps is of high-quality and it has enough tension to keep the caps in place and secured. It runs on two 3 volt CR123A batteries, runtime TBD. Also, despite the diagram on the PEQ sticker, the batteries do not go in as shown, they are reversed instead, please take note so that you don't damage the polarity on the device.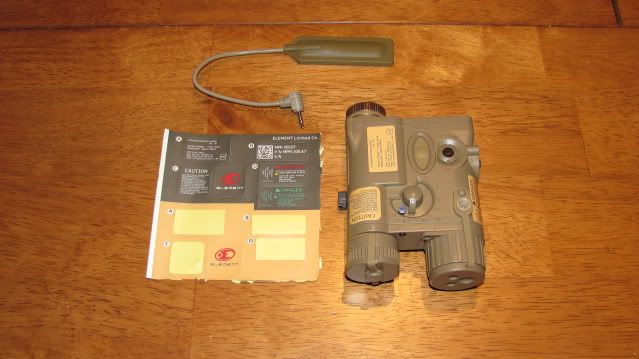 Note the blue safety screw that needs to be removed in order to activate the IR LED. In the real deal, this safety screw is there to prevent it from being switched into HI-Power mode accidentally and is not removed until out of the states most of the time.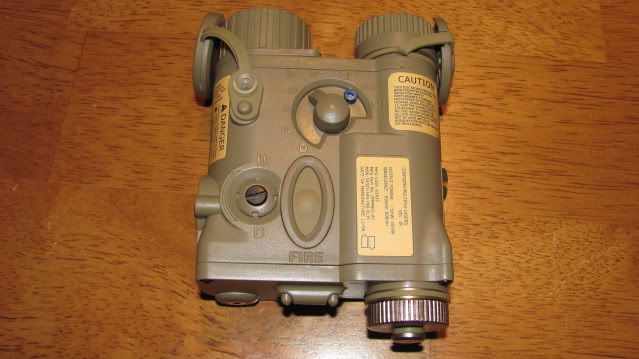 The PEQ is fully adjustable for windage and elevation as you can see here. Upon arrival, my unit's elevation knob was easily turned(a bit too easily) and the windage knob was very stiff. However, they both work how they should but check yours for any irregularities.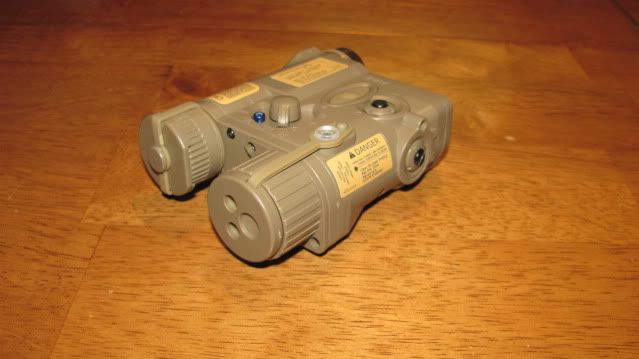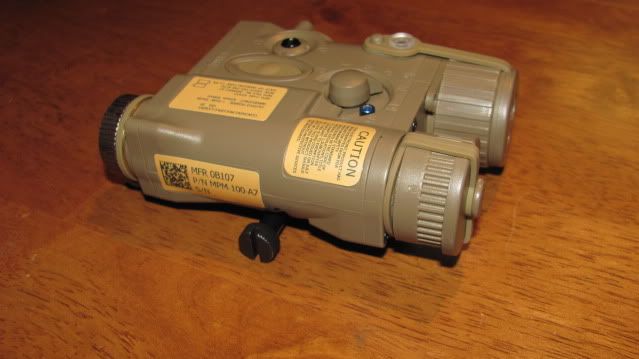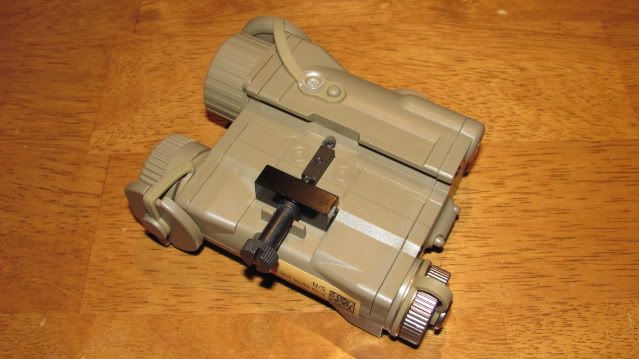 When I say that the PEQ is fully functional, I pretty much mean it. The PEQ features a red visible laser, blue LED light, IR LED, and a main LED illuminator which can be put to use by toggling the main switch at the front. There is no "light and laser" mode for those of you wondering, every feature on the PEQ runs individually. You can activate them into the "constant on" mode by pressing the rubber "FIRE" button once and pressing it again to turn it off once you're finished.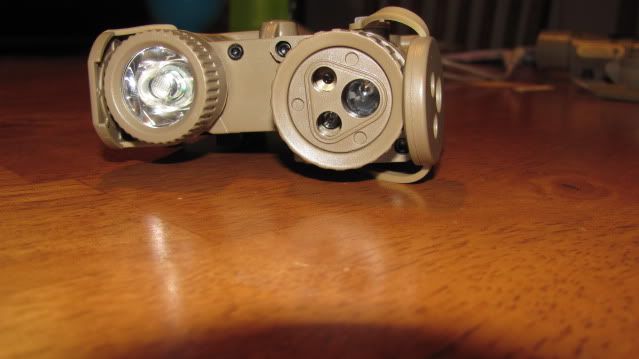 The red laser, unfortunately, is pretty weak. It's less intense than the red laser on my VFC PEQ-15 which was weaker than my G&P AN/PEQ-2A. The red laser is probably equivalent to your standard classroom laser pointer, visible out to 150 yards(approx) max in a lit, night urban setting and about 250 yards out in the field where there is not that much ambient light present. It is perfect for CQB since there isn't much risk if it gets shined onto an opponent's eyes on accident. If you want a super intense laser that you can see out at 800 yards or tag targets during the day with then you might want to invest in an $18 green laser diode for this. But like I said, it's for airsoft and our guns can barely make it out to 100 yards on a good day so it's well within usable parameters.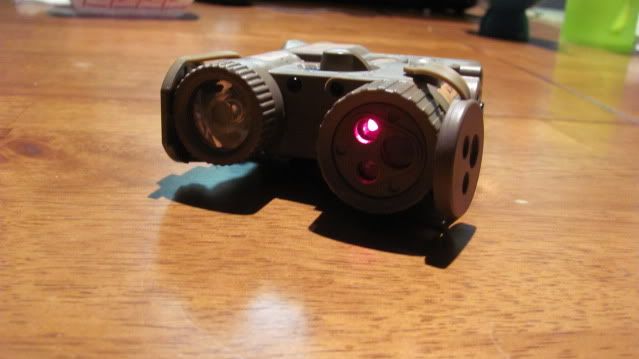 The blue LED light is just that, an LED without a reflector. It is relatively low-intensity so is perfect for navigation through sensitive areas where a bright light would spoil the fun, good feature!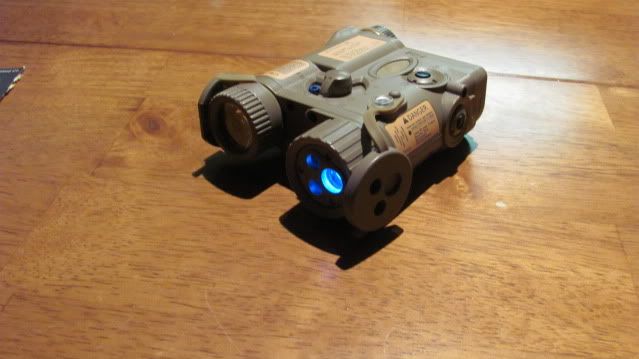 The IR LED, which can be used by removing the blue safety screw, also has no reflector and therefore is pretty useless since it is pretty dim as well. From what I saw using an old Sony Camcorder on nightshot(gen.1 NV w/ built-in illuminator) the IR LED is barely visible at all and isn't useful. It is also visible to the naked eye if stared directly at. I don't own Gen. 3 NVGs so I can't really say if it will actually be useful or not but if you can afford those then go out and buy the good stuff. Through the lens of my camera the IR LED has a purpleish and ghostly appearance. Think of this as a mere "cool" factor, props to Element for at least trying on the IR part.
The red laser, blue LED, and IR LED are all enclosed in a single tube. When you adjust the windage and elevation on the laser, the blue LED and IR LED go along with it.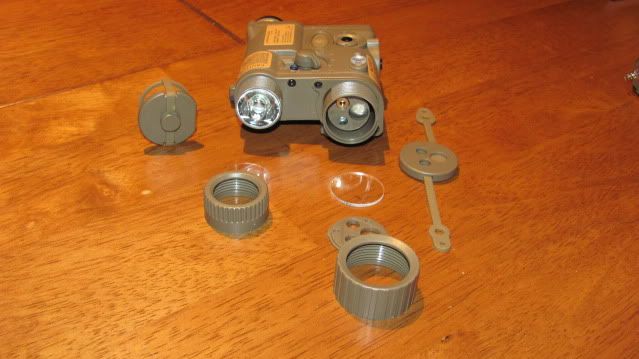 The main LED illuminator assembly is a solid light that boasts a Cree Q2 illuminator. It has a good reflector that projects a focused circle spot of slightly blueish light with a good amount of spill for CQB. The light has great throw which makes it a winner for mid-range illumination, easily shining things out to 50 yards. The round beam is wider than the M3X's so it allows you to illuminate a bit more but it is less powerful. I don't know the exact number of lumens but 90-120 would be my guess since it is brighter than your standard Surefire G2, the VFC PEQ-15, and other replica M3 lights.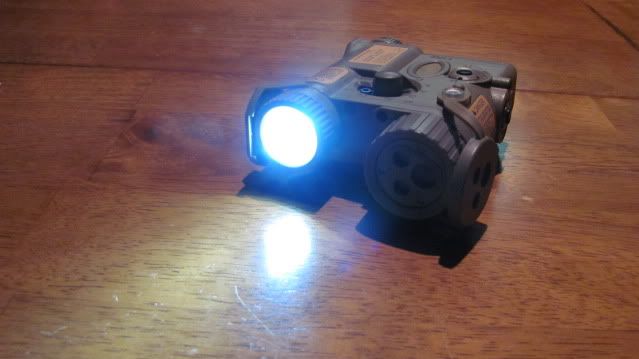 Here's a small comparison of the Element AN/PEQ16A Mini and the VFC AN/PEQ-15: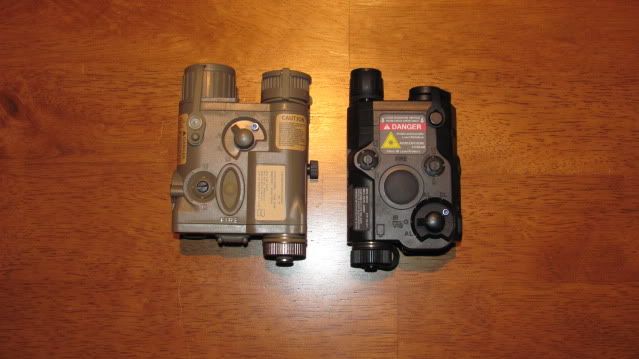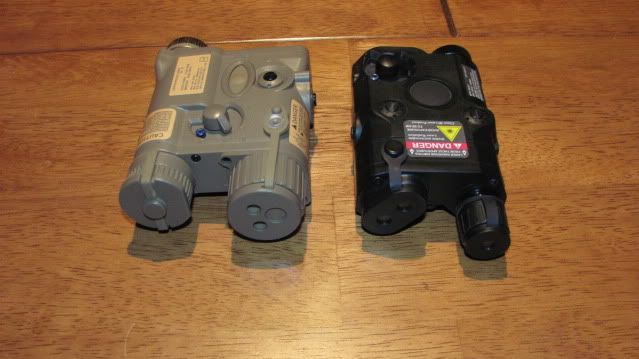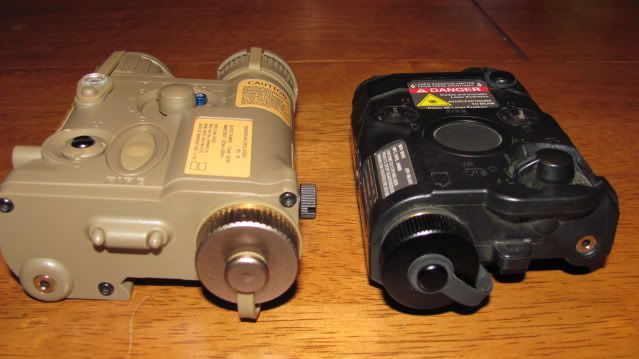 PEQ-15 in front of the PEQ-16. You can see that the 16 is a bit lower but the switch/knob negates the lower profile. The 16 is also wider to accommodate the illuminator and aiming module. Keep in mind, the PEQ-16A was designed to be like a PEQ-15 and an M3X in one unit.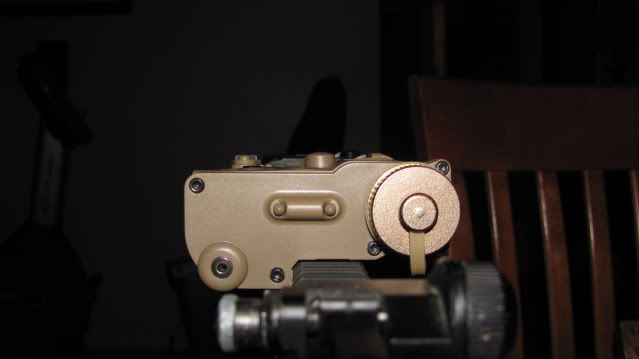 Next, the Element M3X is made out of high-quality 3mm-thick ABS plastic with a slight texture in a slightly darker color than Insight FDE.. Unfortunately, the lamp assembly seems to be one piece or fully sealed. There is threading at the rear of the lamp head but it doesn't budge when trying to unscrew it. However, I don't think that there will be a need to access the lamp assembly to change out the bulb, thank goodness! Other than the above, a few cosmetic details, and an LED instead of an incandescent bulb, the Element replica is just like the real Insight M3X.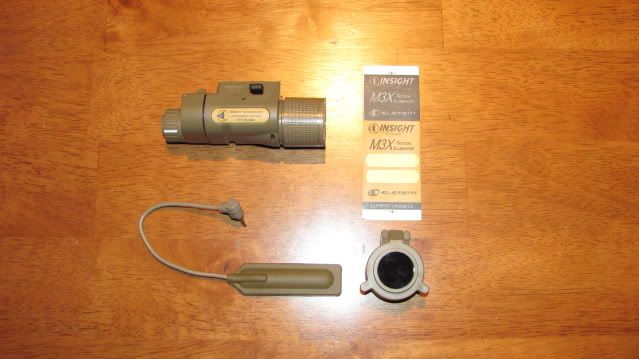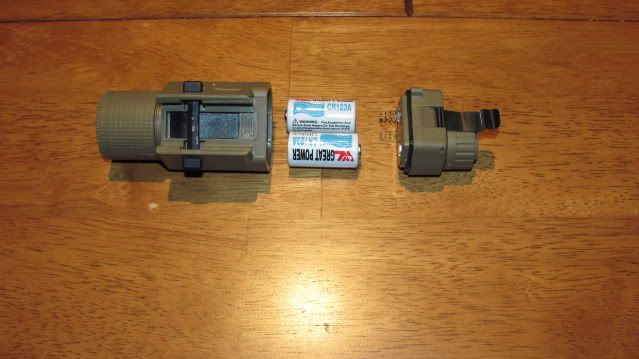 Check out the mount: It fits onto 20mm 1913 mil-spec rails.
Pull down on both sides of the spring-loaded mounting bracket and simply slide the light into place on your rail system. Once there, allow the spring-loaded bracket to return upwards to lock the light into a rail slot. There is noticeable wobble present when the light is mounted on my Socom Gear rail due to the fact that the spring doesn't push the bracket all the way up into the rail slot. It pushes it up enough so that it stays in place but not all the way up in order to eliminate any play and lock it in place. A shim under the RIS slot bracket put more upwards tension and eliminated lots of play, however installation of the light became more difficult. Also, the lever at the rear that closes the battery cap protrudes upwards ever so slightly. If your light seems to be rubbing against your rail then that is the problem. Simply file down the plastic underneath it and slightly press the steel lever down to make sure it clears without touching your rail and you'll be good to go. I will get into detail about this in the video segment.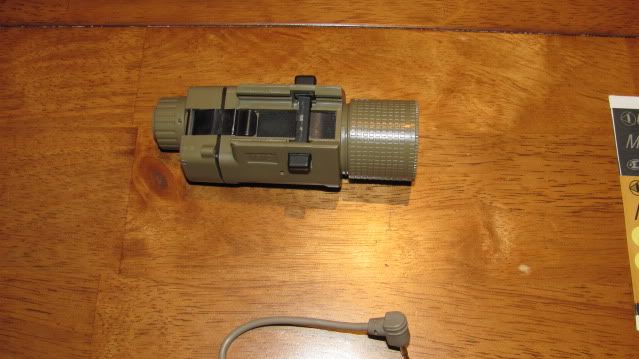 Close up of the Military and Civilian stickers that Element kindly provides, good stuff!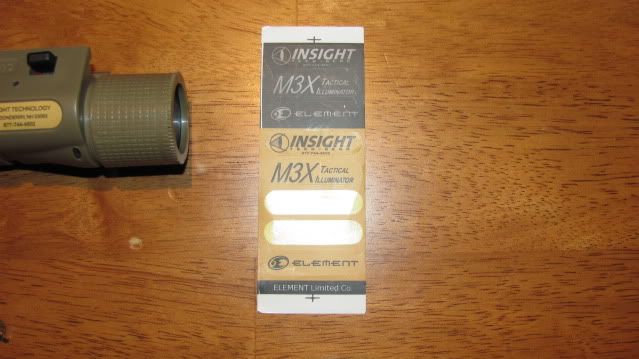 Notice the start of the threading on the lamp assembly/head? Well I can't seem to unscrew it so I think that Element might have glued it on. If I ever need to access the LED housing then I might just get some pliers and go to work.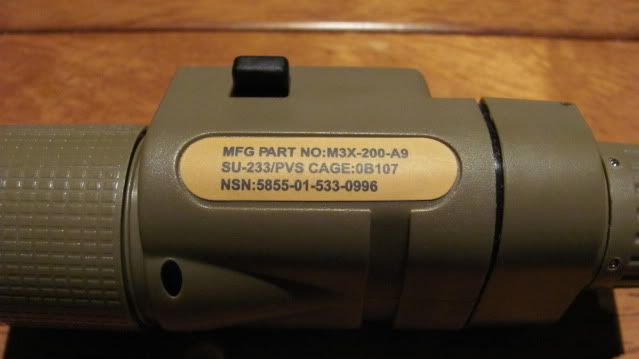 The M3X's performance makes up for the nearly-inaccessable lamp housing. Its small and lightweight package make it an easy choice for a weaponlight, even on a rifle since it packs a nice punch. This one also features a Cree Q2 and powered by two 3V CR123A batteries and a good reflector. The light that comes out of the M3X is whiter and more intense than that of the PEQ illuminator, this is due to the M3X's reflector which concentrates more light into a crisp, round tight spot. It is also great for mid-range illumination and blinding enough for crazy CQB action. Again, this light is a winner and since it is slightly brighter than the PEQ illuminator I am guessing that this one is closer to 120 lumens, runtime TBD. At long ranges, the PEQ illuminator casts a wider spot of light while the M3X has a smaller spot but slightly more intensified in terms of light output/power. Additionally, the M3X has comparable long-range illumination to my G&P R500 Scorpion, which is rated at 500 lumens, costs twice as much and has a 1.25" bezel! Short range the R500 wins hands down due to it's brightness and spill.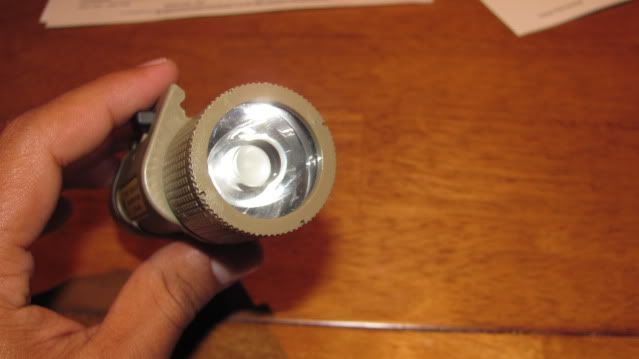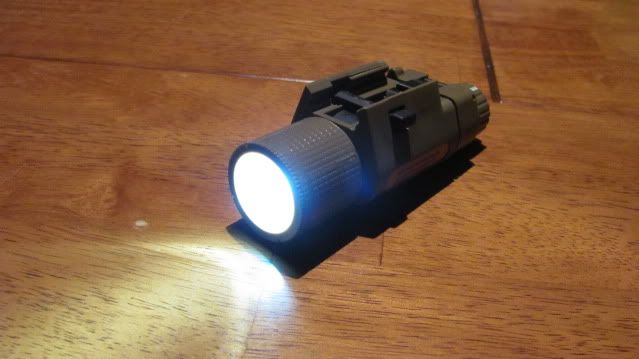 To start blinding foos all you need to do is turn the rotary switch to the desired setting. You can choose from "Constant on", "Momentary on" in which you need to press the button at the rear or use the pressure switch, and finally the "off" setting where the button is locked out and the light cannot be activated. The switch is slightly stiff and can get somewhat difficult to turn on when mounted so get familiar with it or lube it slightly. The included IR flip-up lens cap filter is a nice addition. However when looking through the Sony nightshot, I did not see any light at all coming from the M3X with IR filter. Again, I have no real NODs to confirm the IR-filter's functionality but lets hope that it does indeed work and that it is not just a lens cover disguised as an IR cap.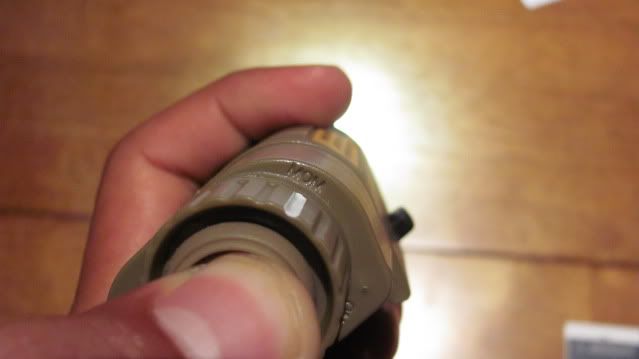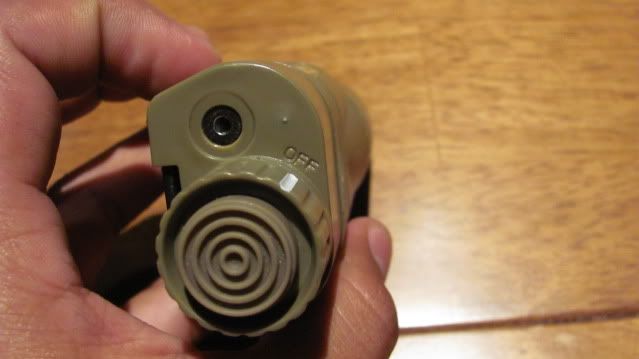 Lastly, the final element, no pun intended, of this bundle is the Dual Switch. There really isn't much to say about this one other than it is made out of the same solid, ABS plastic with a slight texture and that it functions perfectly. The buttons are rubber and the Inisight Technology logo is seen on the front button, just like the real deal. It mounts onto any 1913 mil-spec rail via a spring-loaded QD clamp. Once on, there is little wobble but once you're shooting it's hardly noticeable. It's solid and won't come off unexpectedly. To operate, set your light on momentary and your PEQ on your desired setting and then simply press down on the corresponding button to activate the device like a pressure switch. Every time that each button is pressed you can hear an audible click. I would have preferred a silent pad just like the individual pressure switch that came with the PEQ but the current one doesn't bother me. Finally, the Dual Switch switch is fully compatible with the VFC PEQ-15, the Pro&T PEQ-15, and the Battleaxe PEQ-15. This one is a winner, definitely.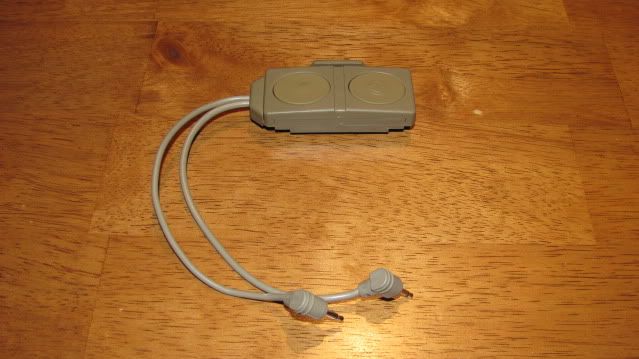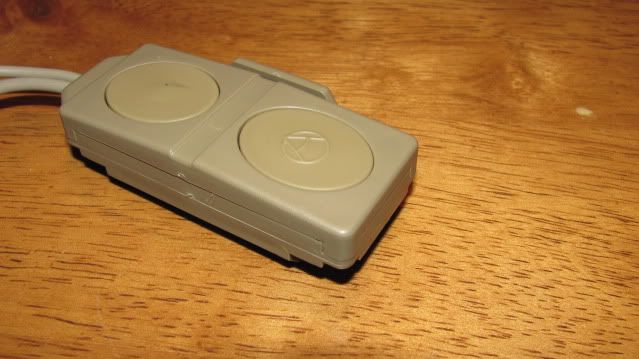 The QD RIS clamp is spring loaded and stays in place nicely.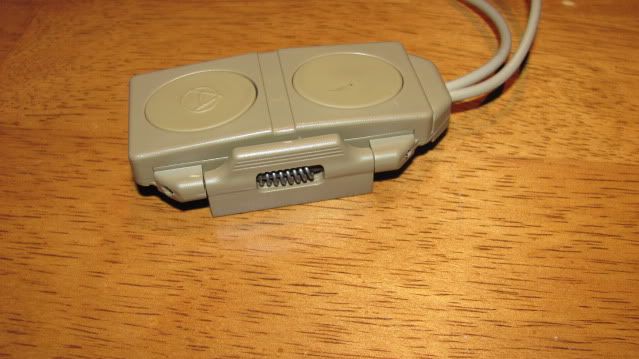 All in all, I think that these offerings by Element are very solid. The performance out of the lights is great for their size and everything is well made. Despite the PEQ-16A's weak red laser, it is still skirmishable in airsoft conditions since our guns do not need to shoot that far so as long as you can see the red bead within range then you're good. Again, this has not been released as a complete bundle yet but Element stated that it would be available soon.
AN/PEQ-16A:
Pros:
-Accurate appearance to the real deal; realistic military stickers
-Sturdy mount
-Well built
-Great illuminator
-Constant on FIRE button
-Blue LED for discreet navigation
Cons:
-Weak laser
-Dim IR LED
-Although the ABS plastic is extremely solid, a polymer would have been nice
-Mid-level price, considering the fact that a PEQ-15 w/ a green laser is cheaper(but the illuminator on those isn't half as good as the Element)
M3X:
Pros:
-Good light intnesity/power
-Great throw, ideal for mid to long range illumination
-Crisp, tight round spot
-Firm switch won't flip modes accidentally
-Accurate in appearance; almost identical to the real deal except for minor cosmetic differences
-Solid construction
Cons:
-Sealed/glued on lamp assembly/head
-Wobbles when mounted(can be shimmed)
-Spot could be bigger
Dual Switch:
Pros:
-Extremely affordable
-Good construction
-Good QD mechanism
-Available individually; Insight Technology only sells this when you buy a bundle deal!
Cons:
-NONE
Please stay tuned for an instructional video demo that will also include some tips. Moreover, stay alert for skirmish/durability updates as well as more photos. Please let me know if you have further questions, I'll go over anything that I may have missed.
Once again, huge thanks goes out to Element Airsoft for making this review possible.
Thanks for reading and God Bless,
-Luis