Aps cam870
- CO2 gas shell ejected
Completed on Jan1-2015
More info's will be followed if any
New Video Added on Nov16/2014
http://youtu.be/jfI5wXu3Kjw
This bad boy has exactly the way to be disassembly like RS, even the stock and forend, sling attachment, you can get RS or airsoft both works great. But the side saddle, have to get the one that fit for same size of two receiver pins, or you have to modify the RS one, (see below for modify) not like RS has two receiver pin sizes.
Design
No inner barrel at all out of all those other shotgun pieces, very close to the RS. This is powered by CO2, gas and bbs are both store in shell. That makes the internal design is almost as same as RS. Of cause, the shell eject is function like RS too. Because the bolt design only come in one solid piece, so when racking it, doesn't have the nice clicking sound.
Bolt in one piece
Chance of modifyD5
Since the internal parts are pretty close to RS, I did change the trigger to RS one in gold color, also the loading arm to competition one. They need to have precise modify to make it works. The rest of the trigger parts should work the same. The front tube can also use RS, grip and forend too. The parts may not be used is the two latches, must be original one. All the replacement parts are available in APS website. The bolt is port metal and no way to be fixed or modify. It's permanent lock threaded.
I broke the firing pin and has to get back to APS order a replace one.
RS Gold Trigger
RS shell lifter
top-original, bottom-RS
Enlarge the hole for pin insert - 1. Shorten the dog carrier to meet the size as original - 2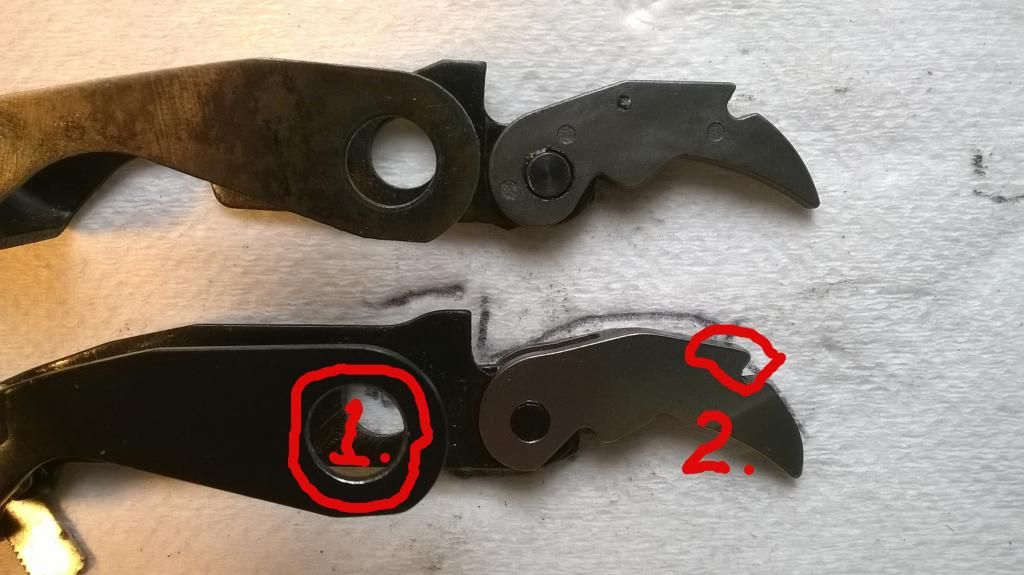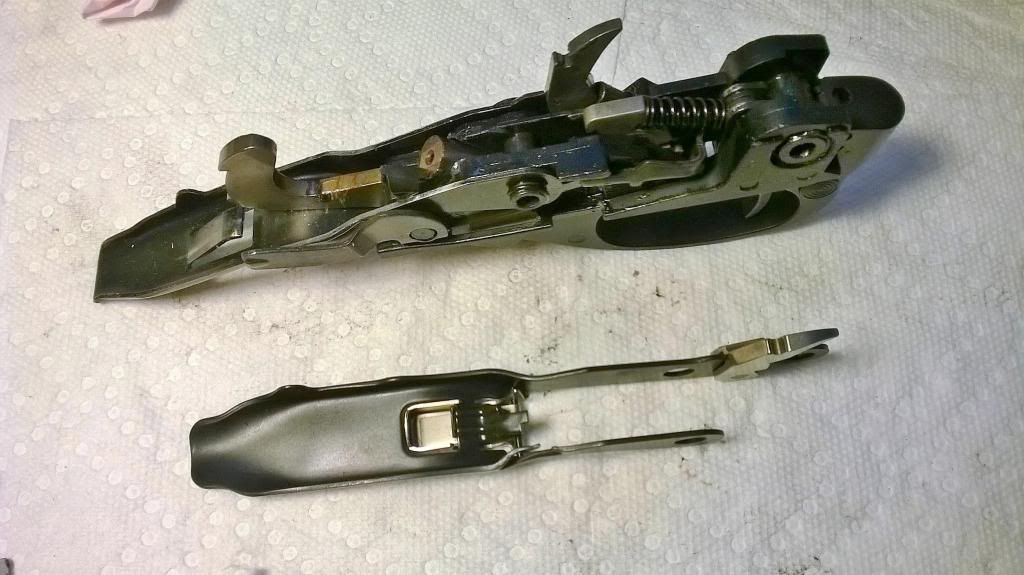 Original trigger group
Rem870 Side Saddle
Since this APS shotgun has two same size of receiver pins, so when you need to add a side saddle on it, you need to modify it or get the APS scope mount pins to fit it in. Also you may need to tap a thread for screw.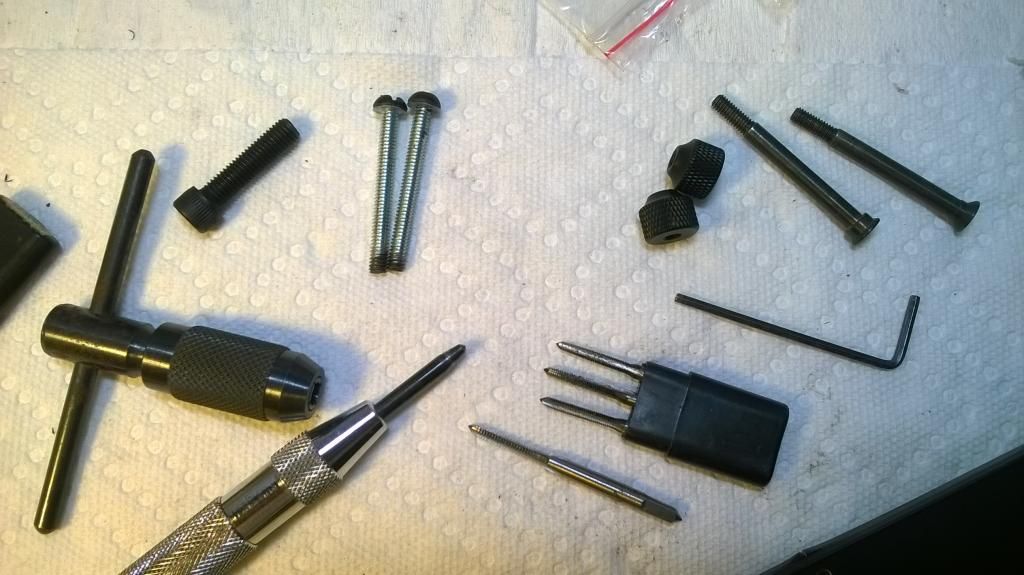 I use two metal screws same size as APS one, cut in same length and metal blue it for support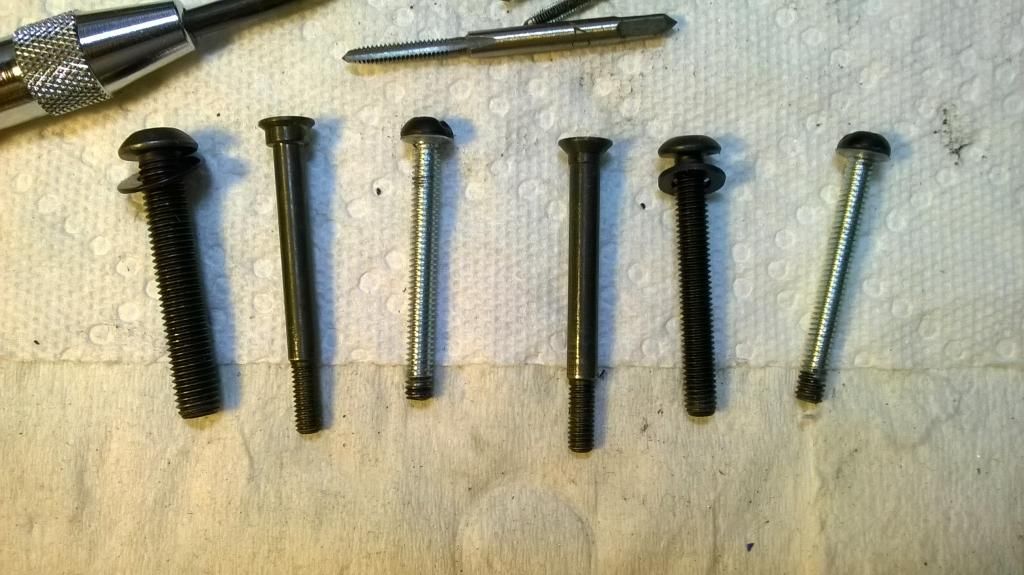 Different between all three set of screws
Drill two holes beside original thread, tap a thread as same size as metal screws, it's done
If you want to try the APS scope mount pins, you may have to disassemble the side saddle and tap the right size to let the screw sit in properly, then assemble back
This is the one for Marui M870 and using APS scope mount pins to install.
Marui side saddle with its own screws set
APS CAM870 - Tune-up guide
Shell Jam
This is the most common angle for shell jam or struck
**Extra info's for fixing shell jam**
the reasons for shell jam is causing by
1, the condition of front contact of the bolt (the most important)
, the top green circle, make sure it files & sand around that area a bit round and smooth to let the end cap of the shell slides through that area easily. You may take it out and use a shell, angle it as the same as jam and test slide contacting on it and see how is the fiction. If you feel rough and not smooth, that's the problem.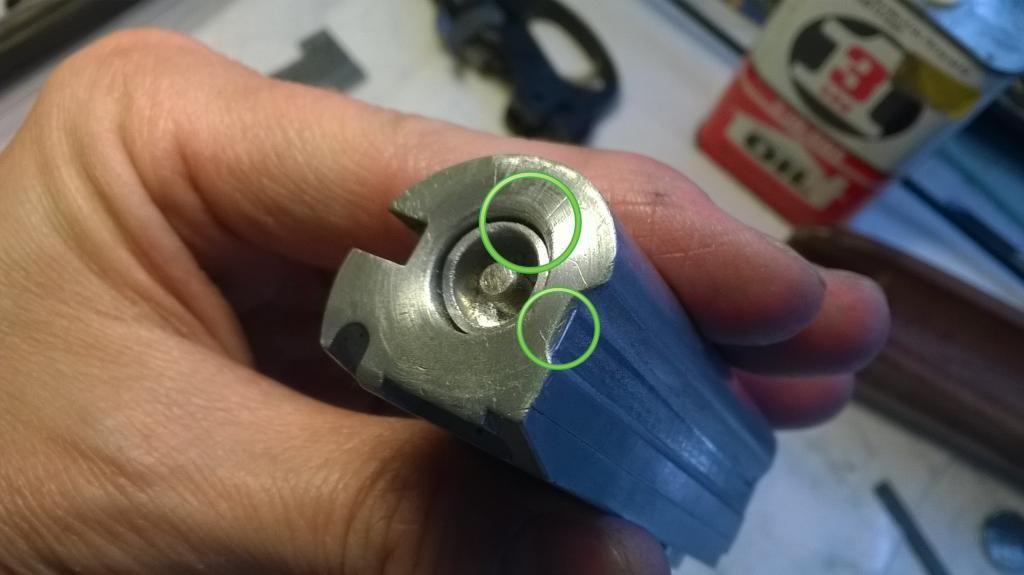 2, is it smooth on the surface of the end cap of the shell (also important)
Mine are damaged a bit so this rough area will create fiction and increase the chance of jam, so I did sand it smooth to make it works the best and minimize jamming.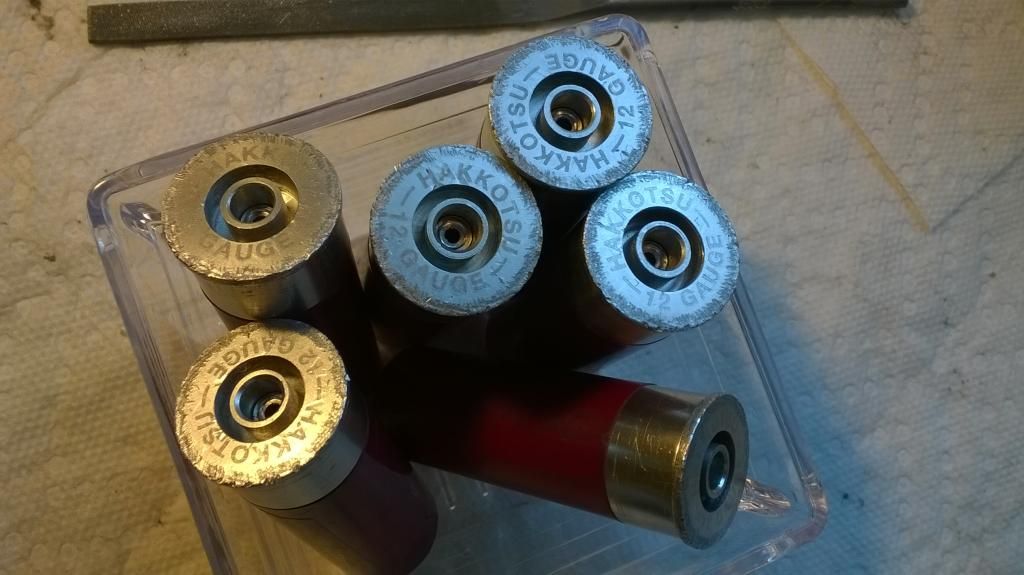 these are not the worst I have, some of them are even much worse than that!
3, the opening of the chamber when shell loading (not important but this will help for wider angle loading up)
use file to file the lower part of the chamber to give wider angle. I would suggest using sand paper first, if not working better then use round file.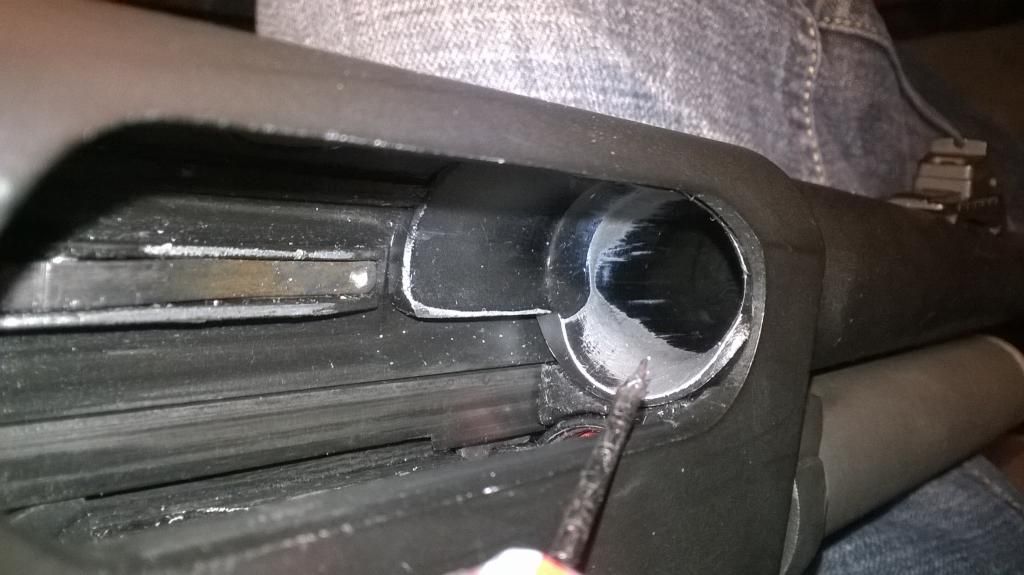 4, the last, may not necessary! is the front edge of shells.
Sometimes I've found that is a bit sharp edge and I just fine sand a bit to help a better angle to be loading in chamber. When first I had my CAM870, I had jam once every 6-10 shots. I marked down the shells got jam and did this process. Also compare the overall length of the shell see if anyone of them are longer. That could be the shell front piece not screw tie enough to the end piece, so when the shell is longer, that needs to have a wider angle to load into chamber and causing jam.
**End of the extra info's for fixing shell jam**
APS CAM870 - Tune-up guide continue....
1, File the lower of the chamber to have wider loading angle, also file the top to make it smooth, the new barrel design inside is pretty rough and need to be filed the wall smooth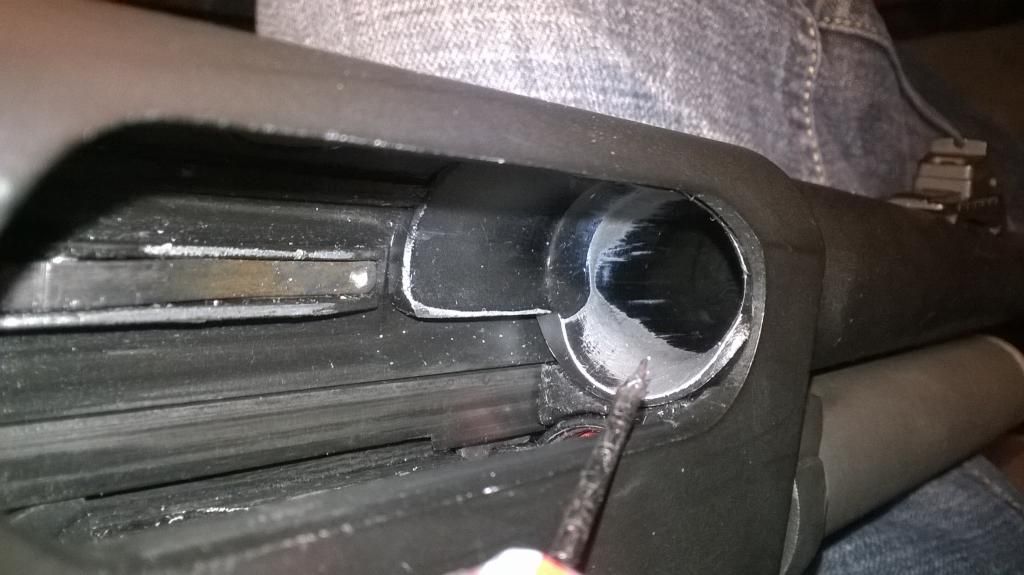 2, File all corners to make it round a bit prevent scratches and damaged shells end cap, that could be too tough to get jam or struck.
Left one is before filed and right one is after filed
3, File both edge to make it smooth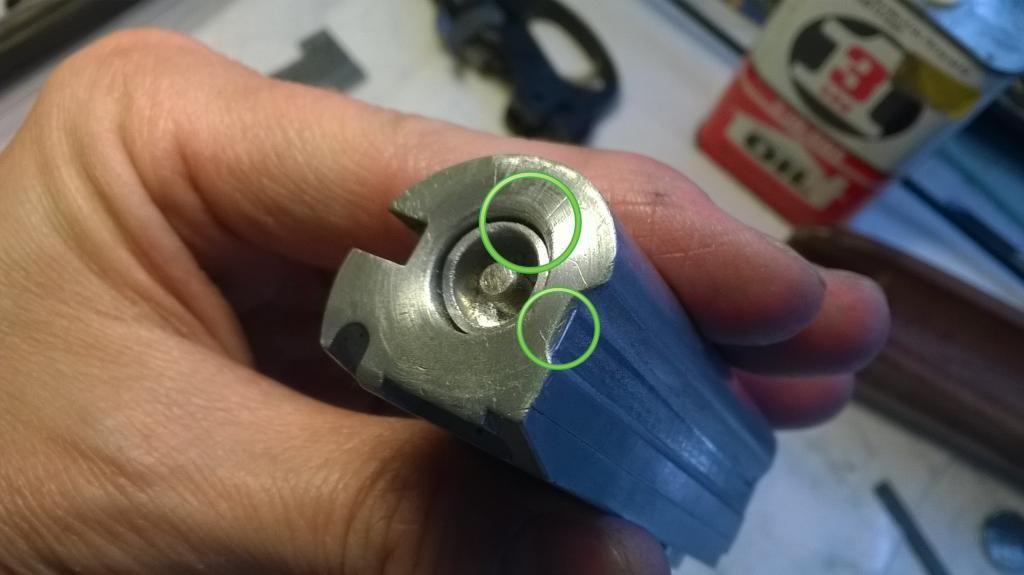 If you have the first generation bolt, file both left and right side of pushing pin in an angle to help eject even smoother. This is the top view of the bolt
4, File both edge a bit round to reduce the friction when hammer and carrying dog hit through it
5, File smooth the end of the latch to minimize rough contact making scratches and damaged shell end cap when loading. But be careful, don't bend and deform the latches, it will effect the functioning.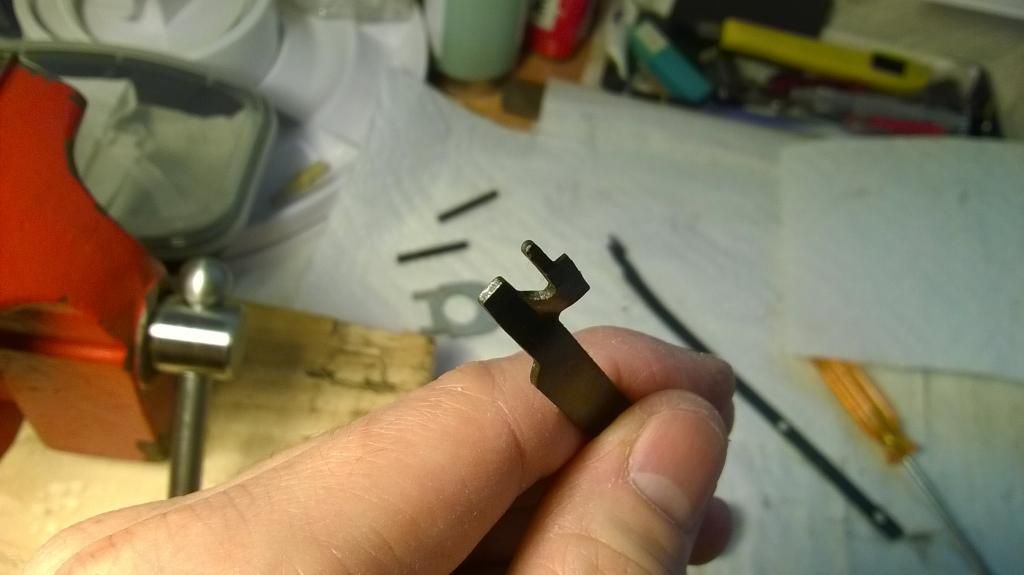 6, Clean up the barrel internal
Before
After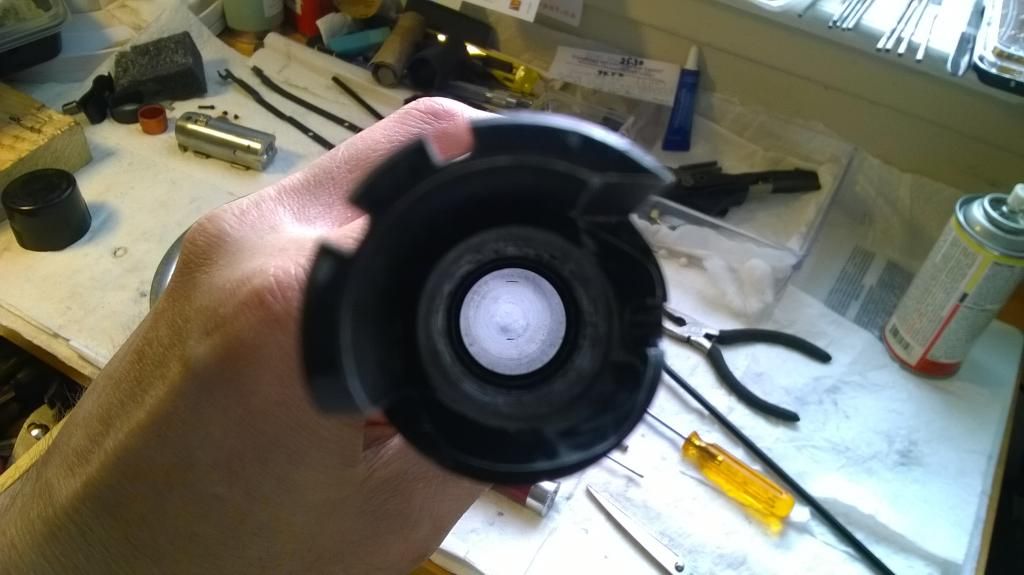 7, If the shell end cap got scratches or damaged, file it smooth at the bottom and the edge to have it easy to be loaded. you may not have to replace it as long as it's still in shape.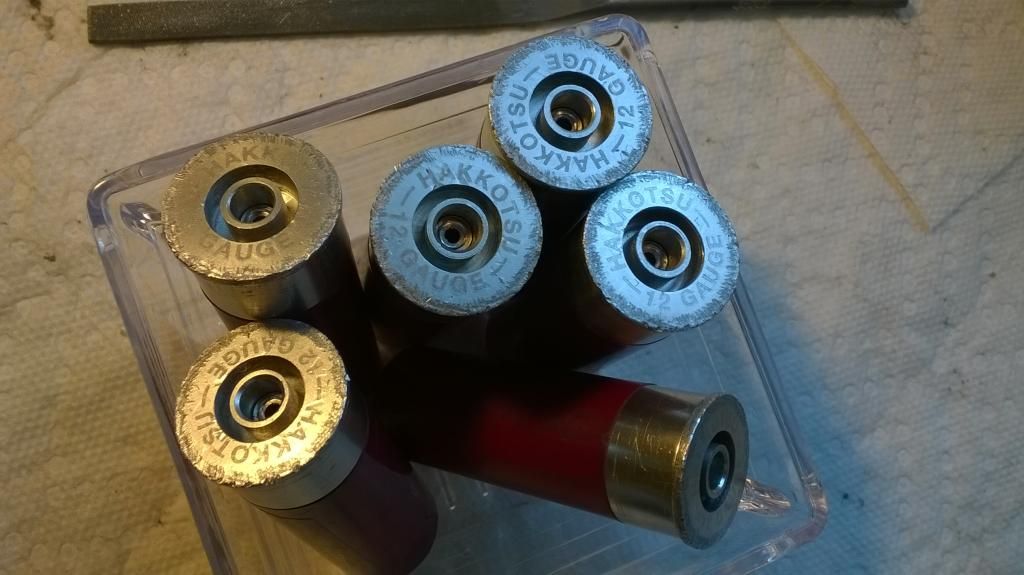 1st and 2nd Gen bolt assembly comparison:
Different generation designs usually are for improving products or fixing products used!
Since APS released a 2nd Gen new bolt assembly for SF model, and I had a broken pushing pin, so I had to study both and fix mine. I've found that 1st gen bolt has scratch on bolt and the pushing pin with shell guard is too tight close to the 1st gen end cap, it creates narrower ejecting angle, when the shell ejected by the extractor spring, it adds up excessive force on the pushing pin and easy to be broken, that could be the reasons I had it broken. By the mean time, APS had designed a 2nd Gen bolt(that time was not released in the market), even 2nd gen end cap (with wider opening end to allow shell ejected easier) too to make it better.
Here is what I've found out.
Scratches or rubbing on 1st Gen Bolt
Narrower ejected angle on 1st Gen end cap
W
ider ejected angle on 2nd Gen end cap
1st Gen Bolt on right, with narrow spacing between pushing pin
2nd Gen bolt, with wider spacing between pushing pin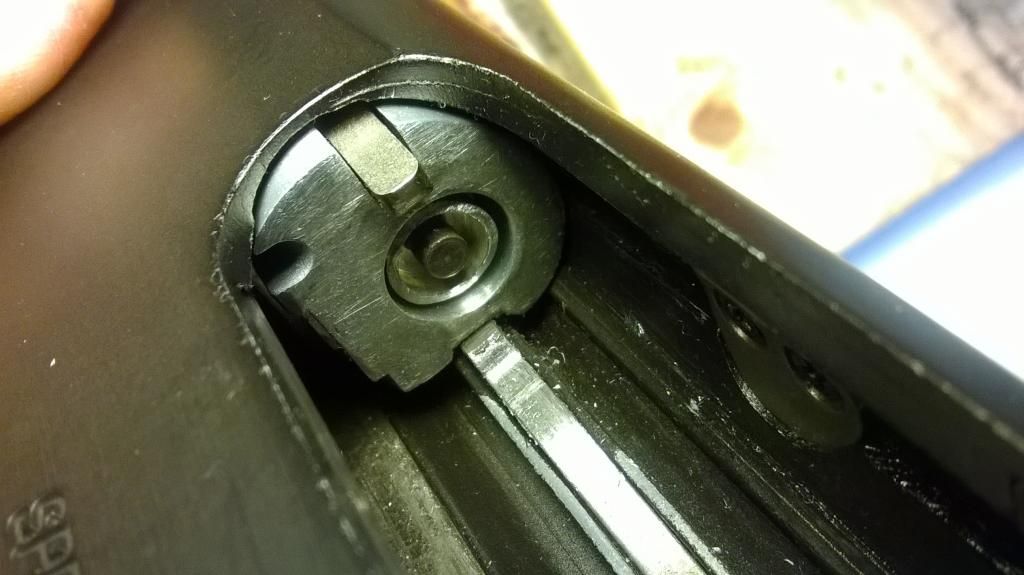 End Cap: lift-1st Gen, with narrow spacing. right-2nd Gen, with wider spacing
Pushing Pin - Dimension mearsurements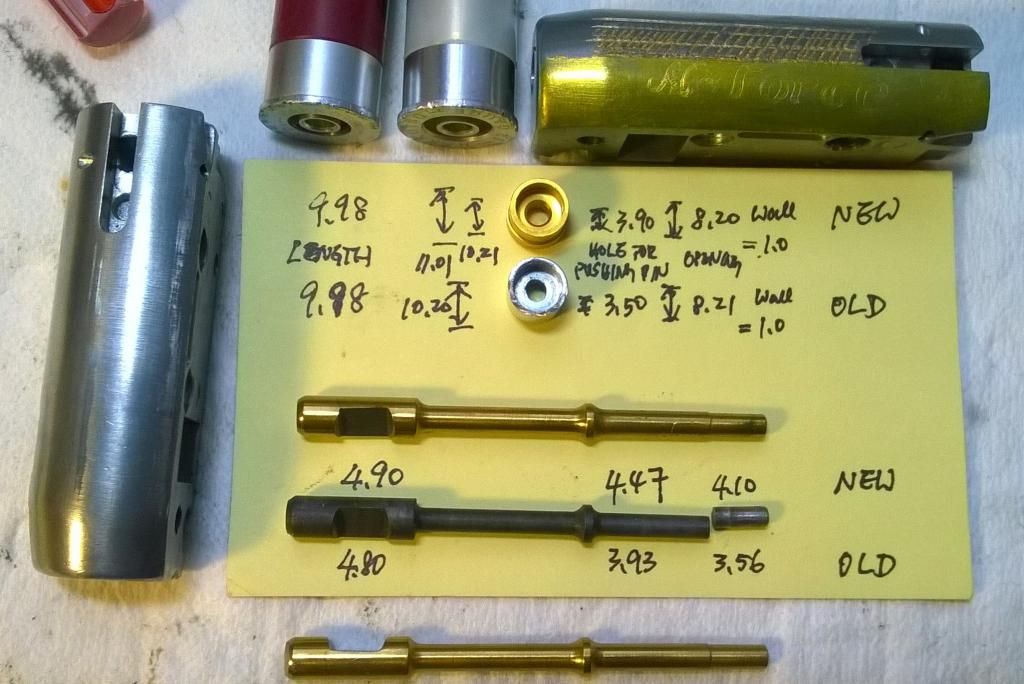 End Cap - Dimension mearsurements
Shell cup (guard)
Install new pushing pin into 1st gen bolt, 1, you need to drill 4.5mm hole
2, you need to drill widen this slot or file narrow the little shell cup(guard)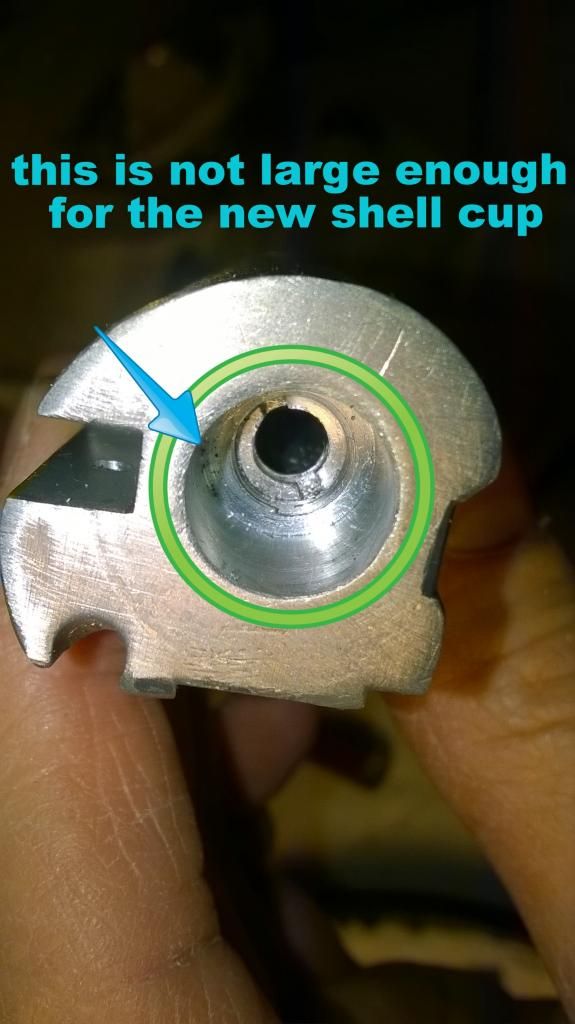 All three pushing pins comparison
This is the 1st Gen bolt with modified new pushing pin in it, without the shells cup(guard). Tested fire it, working really well so far, seems like NO NEED to have the shells cup is still not a problem
If you still have the 1st Gen Bolt, you may do it as below to work better with 1st Gen End Cap to prevent broken pin. Of cause, replace the 2nd Gen Bolt is always your best bet!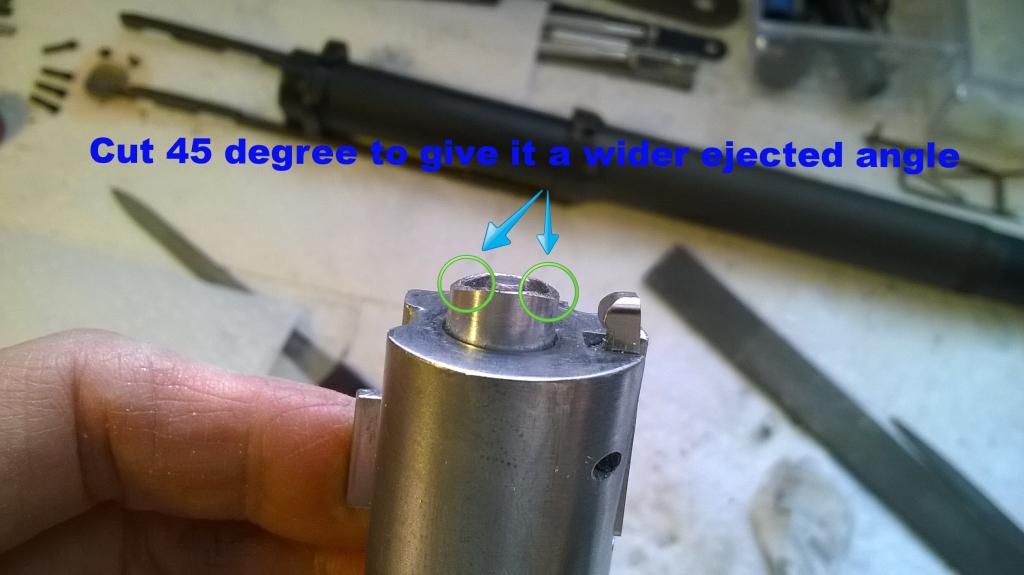 Trigger set Tune-Up
If both of the red contact are not smooth enough, the action bar and trigger connector left would stay at the middle (sometimes) and the trigger might not be fully spring released back in place for next trigger pull.
When hammer up, action bar pushing the trigger connector left up too.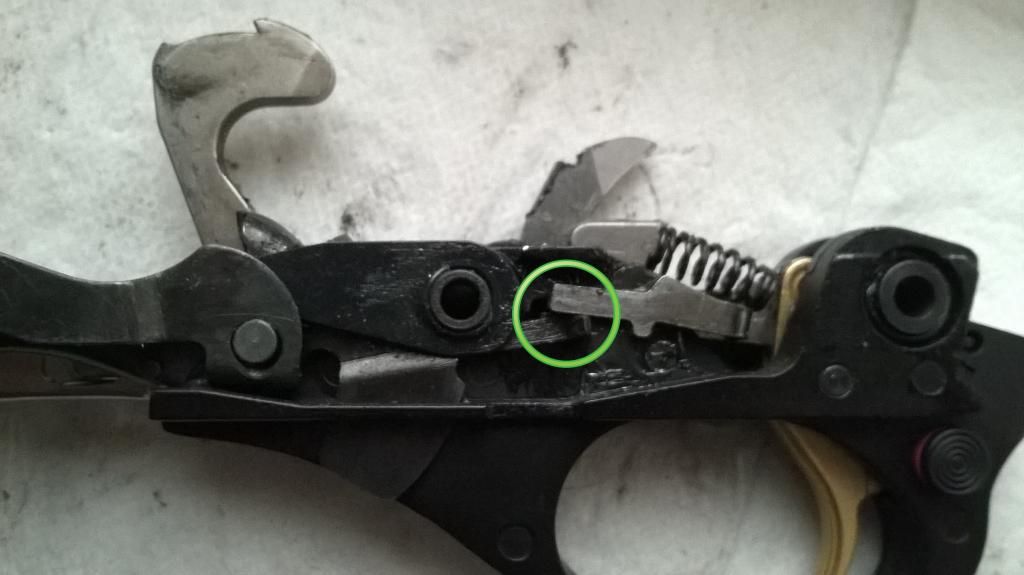 When hammer down, both action bar and trigger connector left will be released back down
Durability
Most of the parts are pretty durable and last long, pretty close to RS material excluded the bolt. I don't worry about how many times i rack it.
Maintenance
Lube internal as usual. I found it's a bit over lubes when new open box. I did clean up excessive grease that not necessary. The only maintain part is the shell. Even if you don't use it much , the o-ring will crack and having gas leak, make sure you have enough replacement o-rings for service. The shell end piece, since l did file the extractor smoother, it's not being damaged as much as before, no need to worry about replacement.
Replacement O-ring
Parts support
APS has most of the replacement parts available, but still waiting for the new generation of bolt release soon.
updated on Oct29:APS has come up some new accessories. Check link below.
http://www.aps-concept.com/index.php..._115&limit=100
Rating
R1
Because using shells, you should have a shell catcher for gaming. And the gas and bbs reloading is taking a bit long time to do, so you need to have a lot of preloaded shells or long break to reload. For CQB short scenario and using the short version is really good and really fun, for long game, this short version one is good as a secondary.
Diagram