Thanks for all the input so far!
I realize it's another AR platform, but I thought I'd post it for anyone interested in what the local boys are using. And it's not often I find something that's not already posted here LOL. I did a little digging on some of the other bits (some are obvious) and I think I have it pretty close:
The most interesting aspect I found was the flash hider / suppressor combination. The hider should be this:
Smith Enterprises G6A2-SBV with 22x1 mm RH O.D. thread with 1/2-28 I.D. thread Vortex
"Heat treated same as all other Vortex's and used by Canadian Special Forces. For use with SEI Sound Moderator or OPS INC Sound Suppressor."
It appears to be situated on something along the lines of this:
"Allen Engineering Collar Adapter Extender for Ops Inc Suppressors"
https://adcofirearms.com/shop/catego...pter-extender/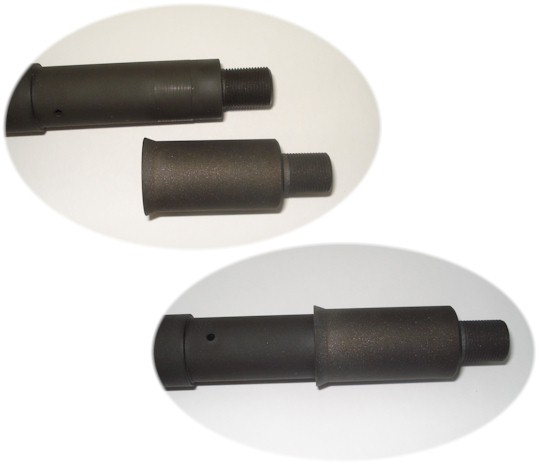 I figure the closest I'm going to get to this (without CNC machining) is going to be:
http://www.cobraairsoft.com/product_...0829c916212b79
Not perfect but wil do for now. Maybe I can mesh together something with a vortex flash hider at some point.
Sights are pretty easy... A.R.M.S. Inc. 40L BUIS:
http://http://armsmounts.com/shop/ir...0l-f40l-combo/
Unfortunately there only appears to be the rear 40L BUIS available in replica. So ine either spends $260 for RS or use something similar like the 71L combo which does exist in replica version but not 100% accurate to the build.
Optics are pretty easy however the Elcan Specter DR 1-4x is an another option seen in use in the wild.
The rest is pretty obvious and easy to acquire:
G&P C8 CQB/SFW (Acquired!)
Elcan Specter DR 1-4x (Acquired thanks to megaman!)
SPR Flash Hider & Ops 12th Suppressor (Acquired thanks to "tofu"!!!)
Magpul CTR Stock (Acquired)
Magpul AFG-2 (Acquired)
Magpul Enhanced Trigger Guard (Acquired)
PEQ-16 (battery box acquired - but would prefer a functional version)
PTS A.S.A.P. Sling Attachment Plate (Acquired)
B.A.D. Lever (Acquired thanks to ronin49v!)
Spare 10" outer barrel (Acquired thanks to ronin49v!)
Enhanced Charging Handle and Latch (Acquired thanks to ronin49v!)
Flip Up Sights (Acquired)
Ergo Grip for M4 AEG Series (Acquired)
Dytac G-Style SMR Mk4 or 5 9.5" (Acquired)