[Worklogs ripped out of the AK thread]
I'm starting another AK project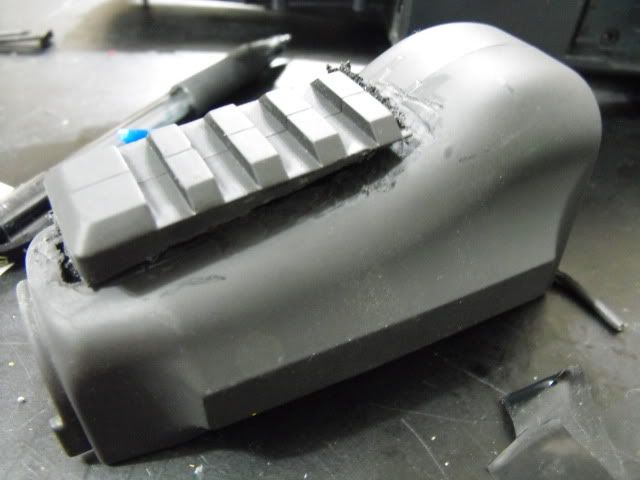 RAILS ON MY AK??? I DONT THINK SO.
Makin' another Afgan style upper piece...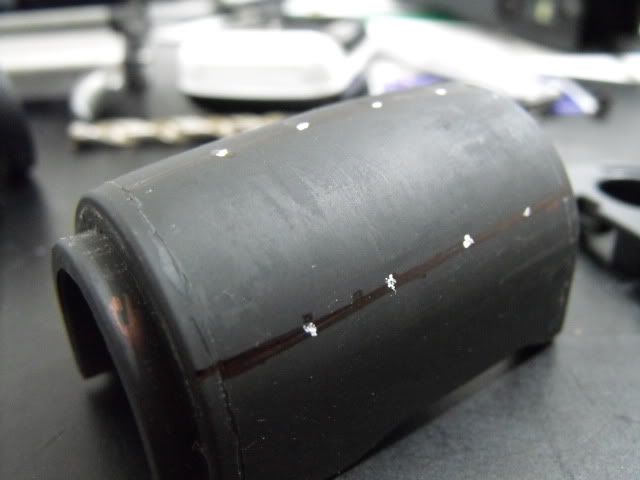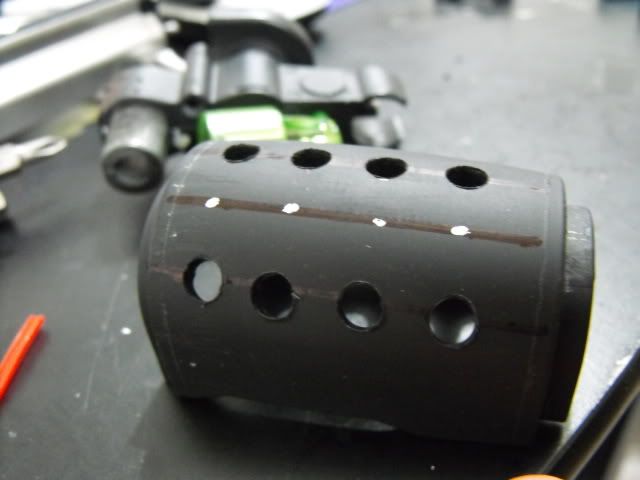 Did I mention this is going to be REALLY short?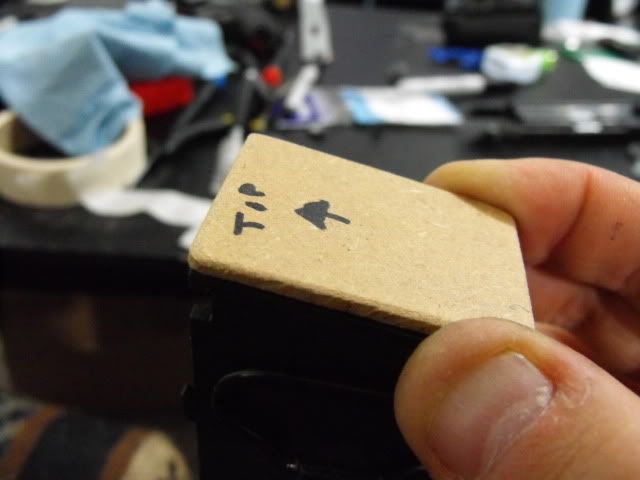 6:30 am... spent the entire goddamn night working on an INSANE build with a CA M4...
Modify smoothe torque kit + super low resistance wiring and a trigger master with an S90 spring... and a G&P M160 motor = ... WAY much torque... For some reason this thing completely lost semi-auto... I couldn't time the trigger master properly because of this... and without the TM it was giving me 5 shot burst on semi auto... Lol
It only managed to chew through 1 piston though!
Anyway I got some REALLY basic preliminary work done to my AK.. I managed to paint the butt-plate and pin it in place (once I get a metal body I'll upgrade the wooden back to a metal back plate)
I opened the mechbox... Yuck. $250 later from airsoft parts... and I should have a decent mechbox.
I also threw a WHOLE bunch of epoxy puddy onto my lower fore-grip to made something that was sorta "moulded" to my hand... That'll remain until I can find a suitable beta wooden lower grip... My faux afgan style top is staying.. I spray bombed it with a SUPER high gloss paint.. and now it looks like metal

Pix soon.. Gotta find my camera in the dark..
Edit: Pics!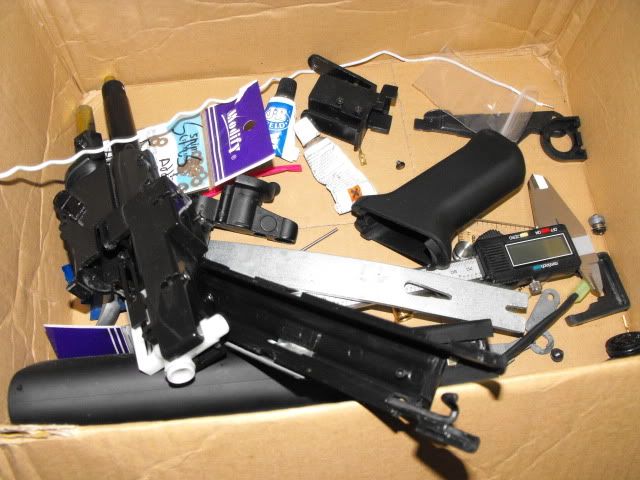 Box of parts... My battery tray is horribly broken
Anyone have a spare they'd be willing to donate

? ... It's ironic.. I have a battery tray/bolt mod that I do to all rear-wired AK's to make them easier to work on.... in the future... but I've thrown every tray out so far... And now I need one lol
Mechbox parts! Gross Chinese fish grease all over everything.. eww white plastic pieces that've absorbed so much grease and oil that they've become heavily dis-colored... Chinese guns are gross... but this one was such a deal I couldn't pass it up. Note: These pictures are taken POST cleaning...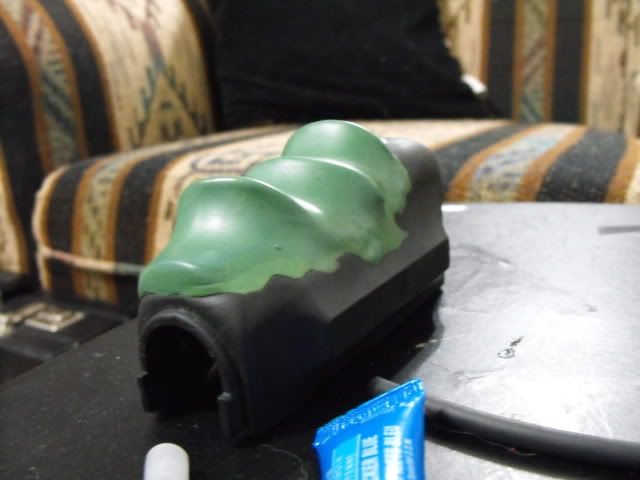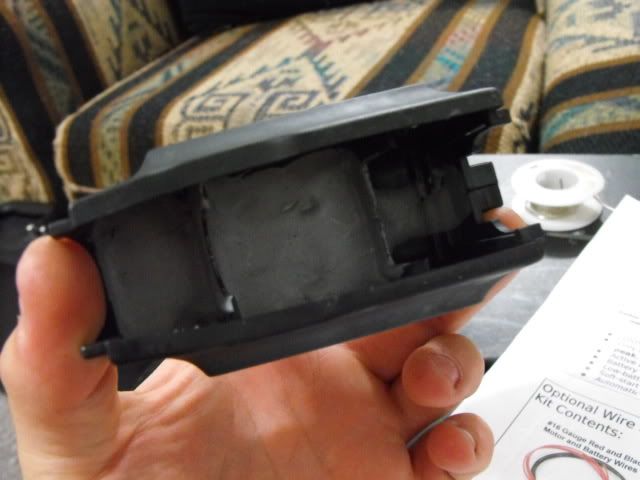 Reinforced the grip really well

about 1/2 a tube of JB Weld to fill the gaps on the inside and reinforce it.... and about 1/4 stick of Epoxy puddy "Green stuff" to make awesome finger grooves! (It's comfy for southpaws!

)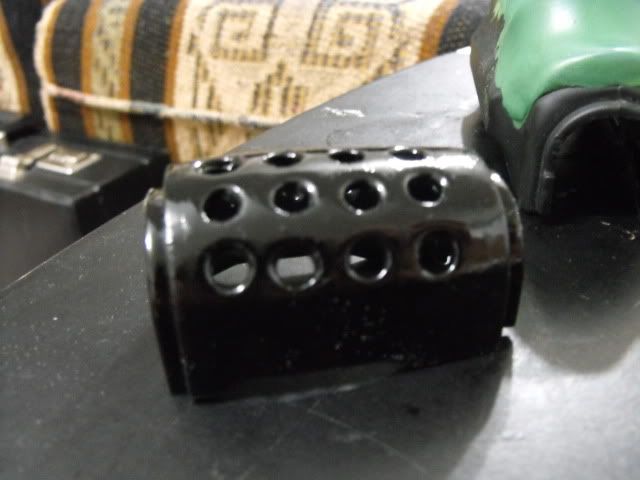 Aaaaaand my favorite piece of this build so far! the excellent beta-sized faux Afghan upper hand-guard

More stuff!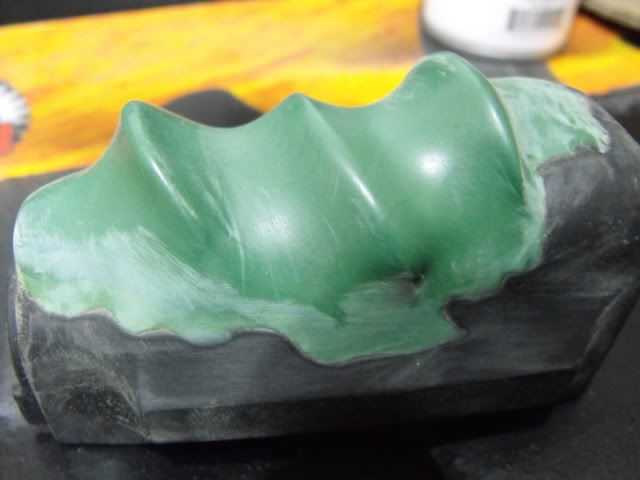 Sanded epoxy flush...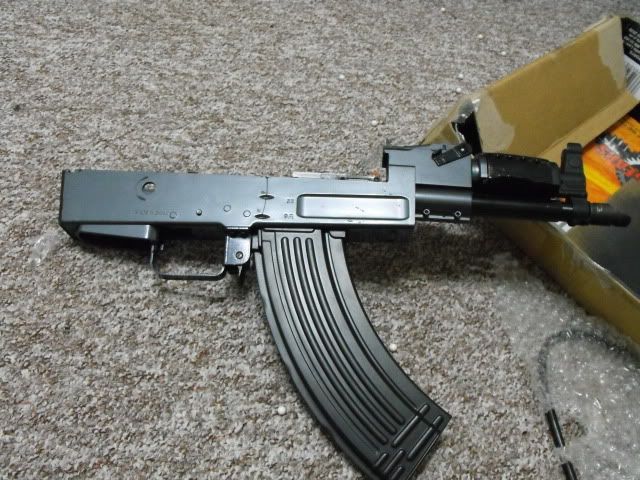 This is how big it will be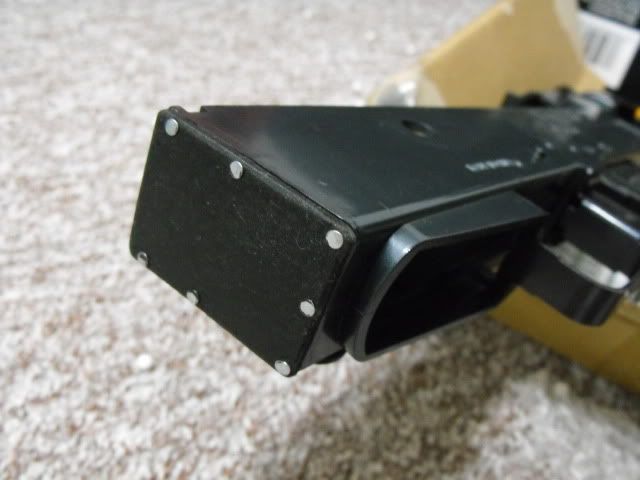 My awesome wooden end plate... It's held in by finishing nails... It's actually really secure... I like the look of the silver on black, makes it sorta look like rivets.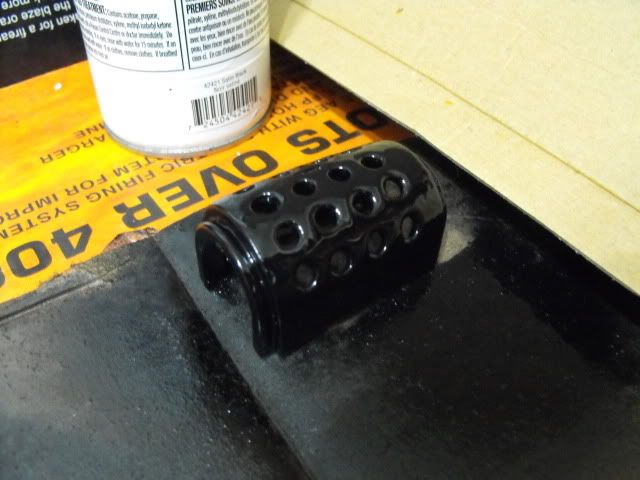 Wet sanded and applied another coat to the upper heat sheild, I'm gonna do it progressively finer sand paper over and over... gonna make it a nice gloss like automotive paint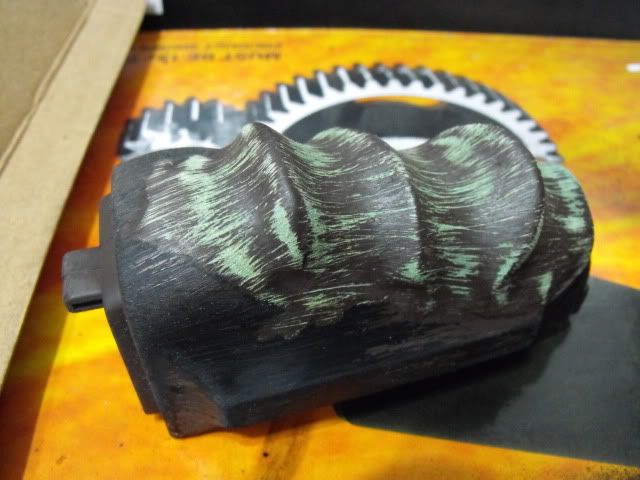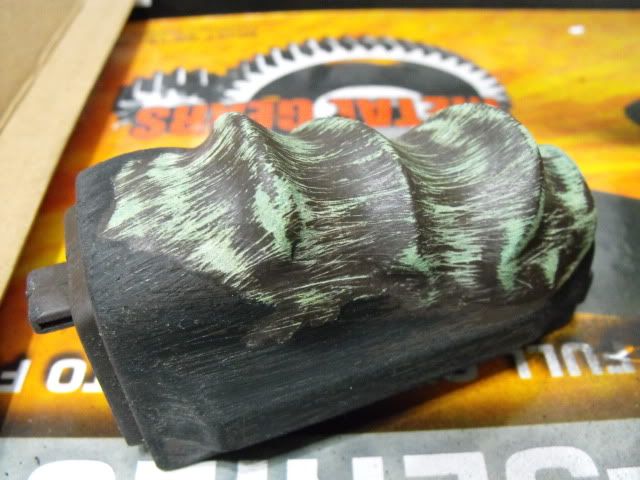 Trying my hand at imitation wood... Not working out so well so far..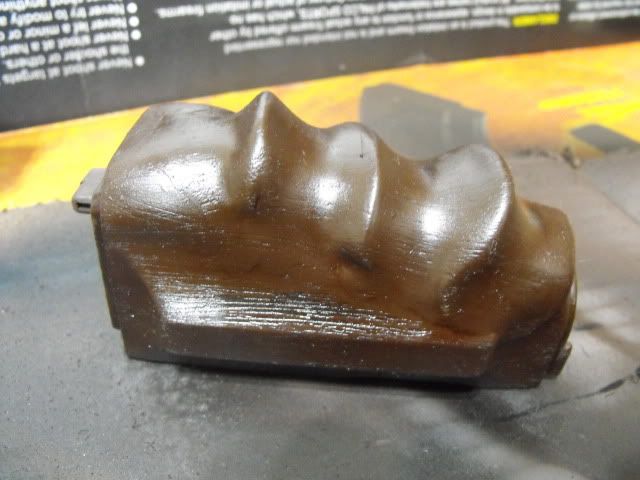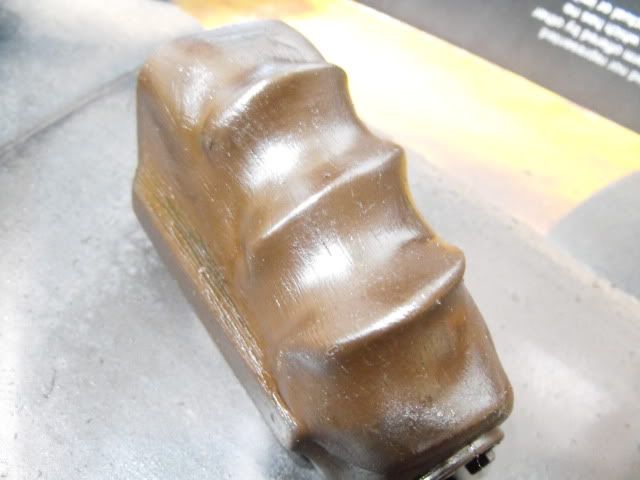 Stain applied... looks a bit better... I think I need another color of stain... it doesn't help that I just found the red alliance tutorial on how to do this... AFTER I tried my own ways..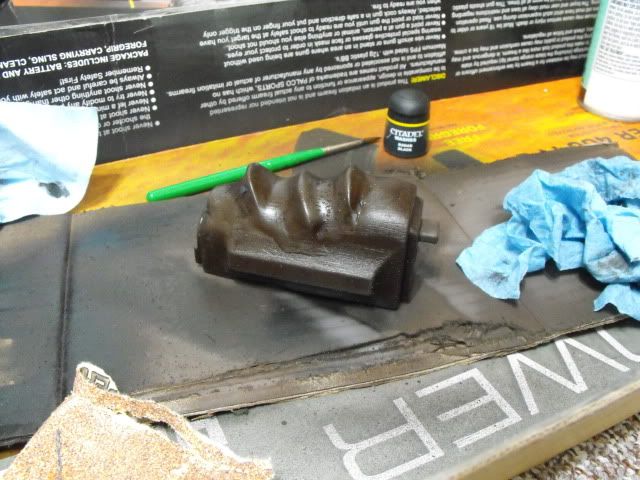 Added some black ink to the hand guard to hopefully darken the fake grain a bit better.... didn't work as well as I hoped.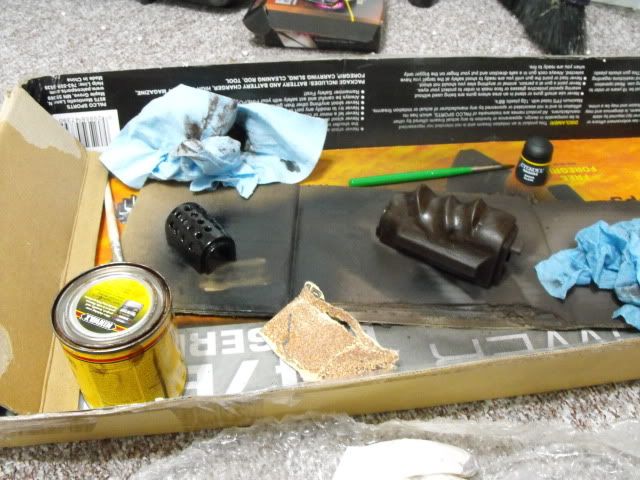 Fina group shot... Lol those of you that've been in my basement before... you'll notice that it is MUCH cleaner than it normally is!
That's all for today... waiting on parts from airsoft parts.. everthing will hopefully be done on Wednesday

I tried painting the lower to look like wood... It kinda worked out...
The picture doesn't show it very well.. but there's a worn down looking grain in it... I'm contemplating sanding down the verithane coat to make it looks more beat up... but that will happen with use anyways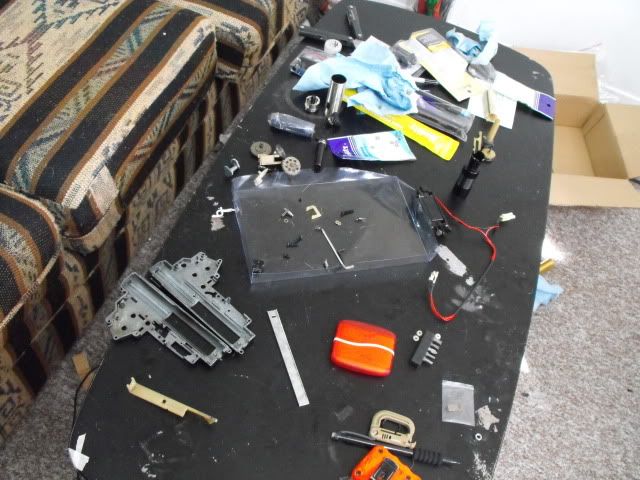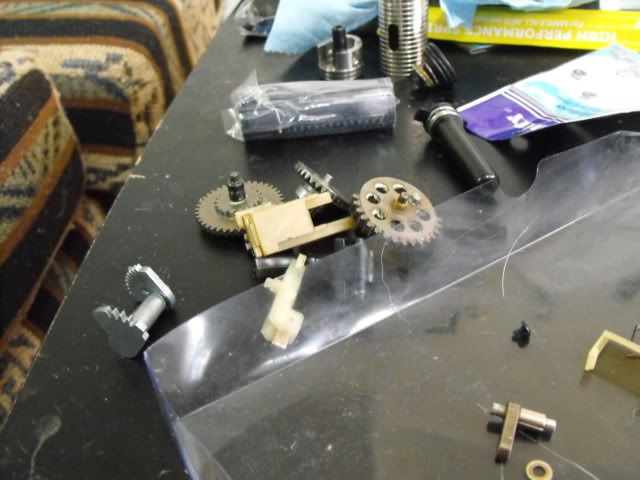 Parts... Such good quality upgrades... such a piece of shit mechbox shell... Uggg I forgot to order a modify tappet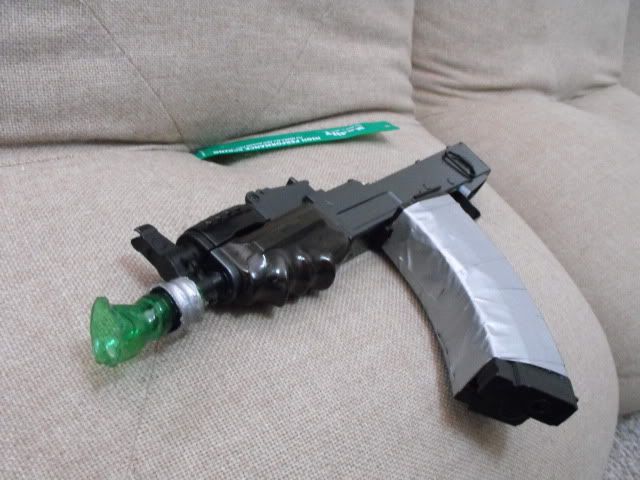 The pop bottle "Booster" is for a post-apocalyptic game that's coming up this weekend... I didn't wanna tape and twine the gun... so I figured I'd do a different take on the "pop bottle silencer"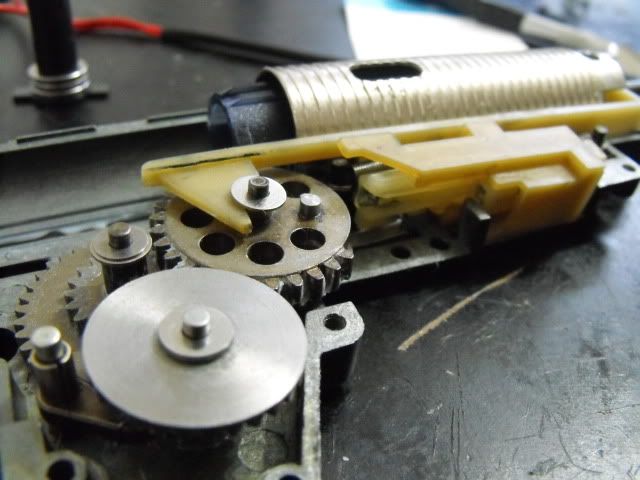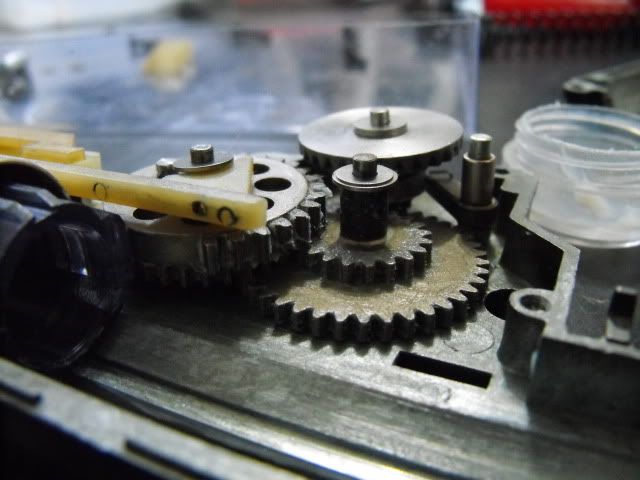 Off-white is boring chines shit... Check out that perfect shimming

3 revolutions free spin without bearings and standard ratio gears!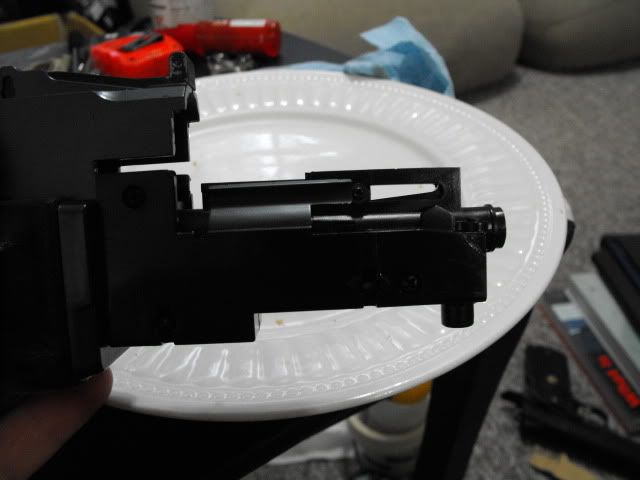 KA hop-up unit w/ guarder clear rubber and a madbull barrel... (Keeping everything on the cheap side for this one!)
Here's where the headache began... Seems they didn't anticipate people using a stick battery... I had to get into some pretty retarded modification...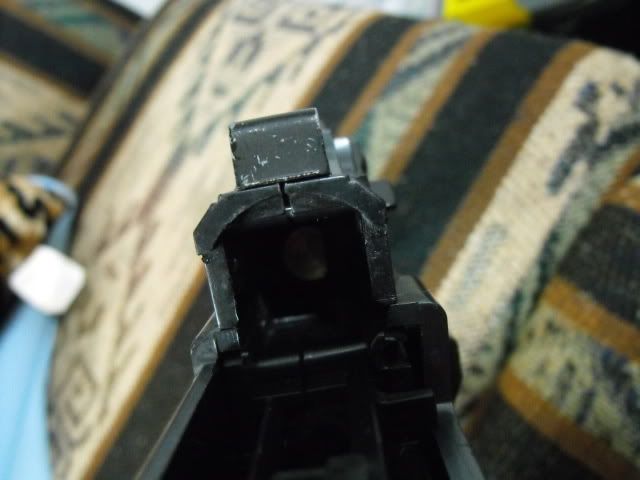 Dremal to the rescue!
FFFFFF STILL NEED TO GO MORE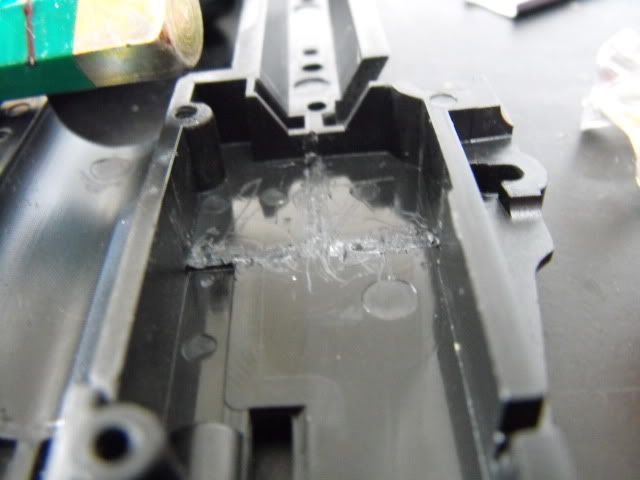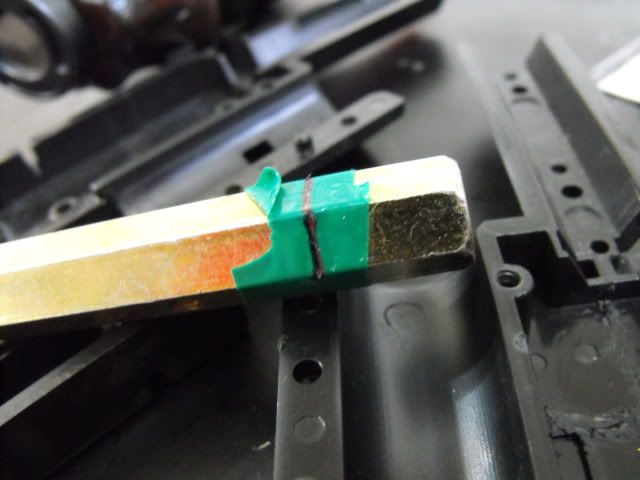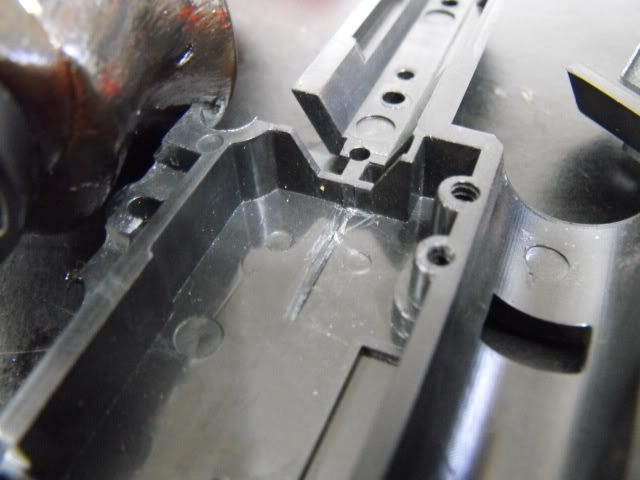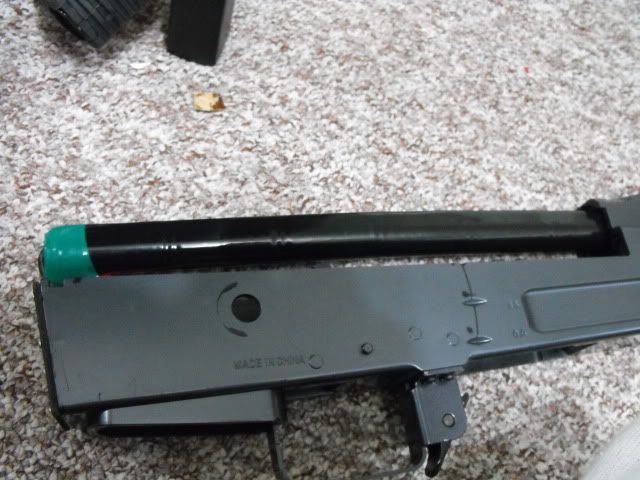 ... Looks good? ... NOPE! The top cover STILL doesn't fit! FUUUUUCK!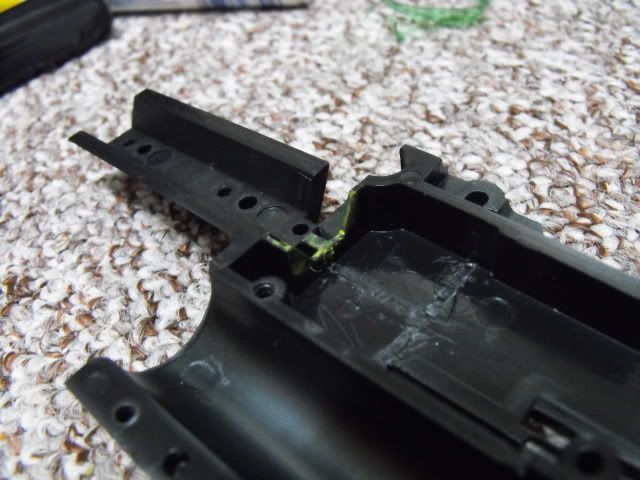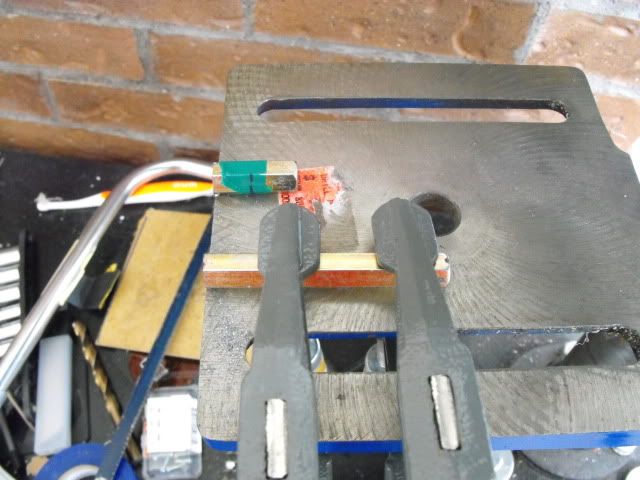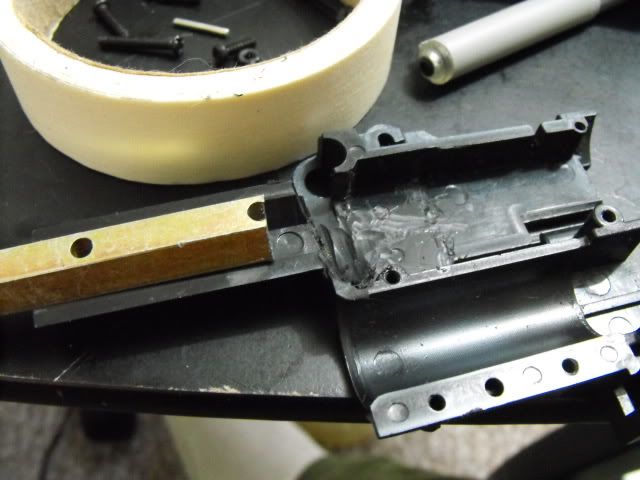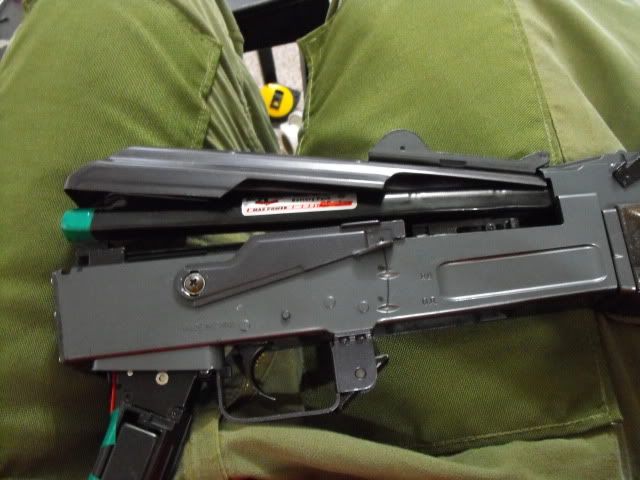 Should fit now right? ... NOPE! FUUUCK! ... AGAIN!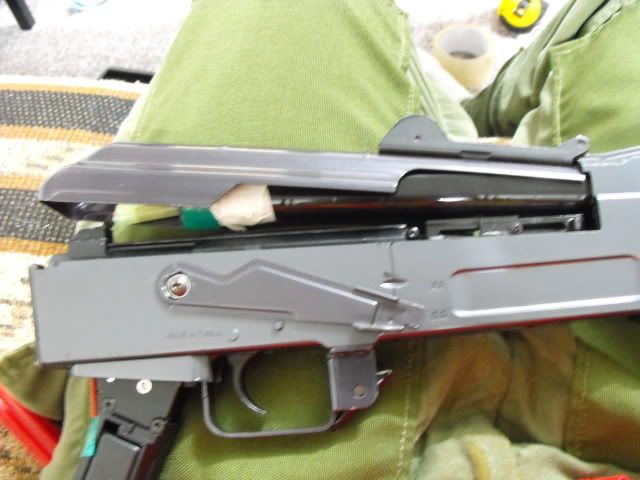 Broke off the front support... and dremaled the hand guard retainer to rest on the battery... it's still snug.. but will probably fuck up my battery later on in its life..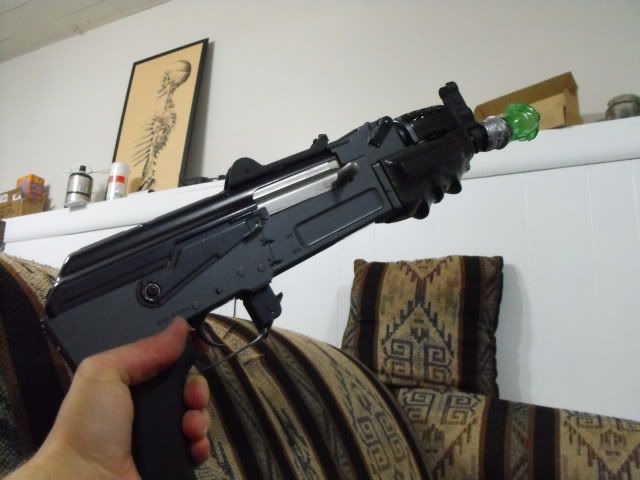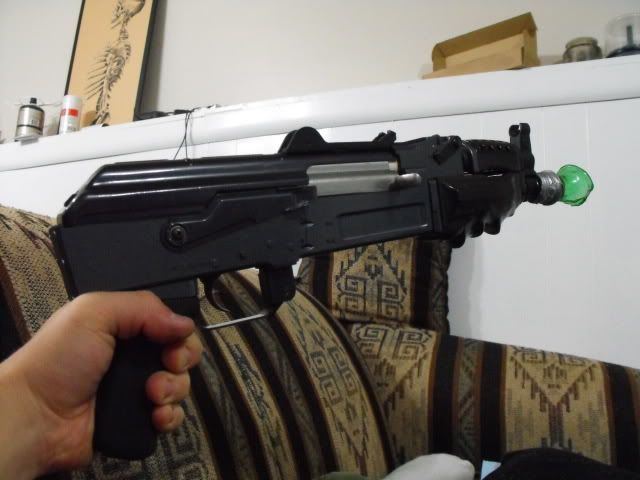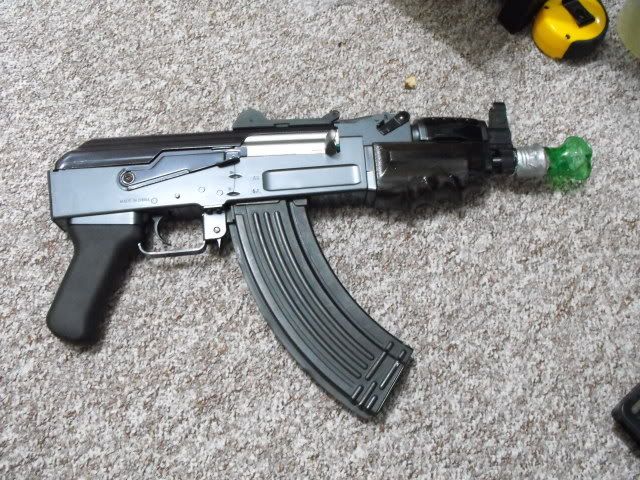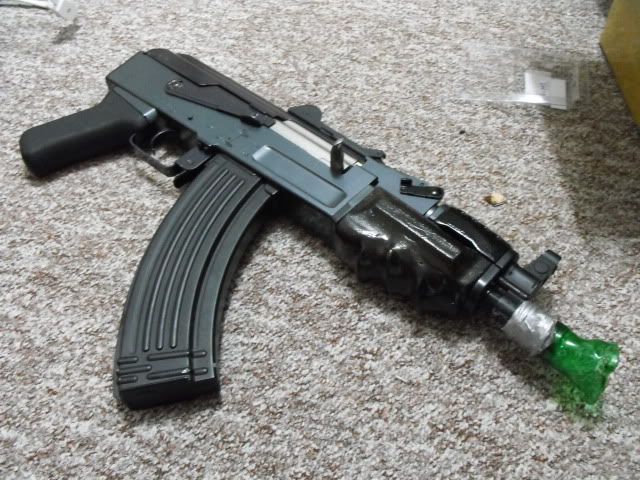 "Muzzle booster" will be coming off later... It's got a slanty underneath it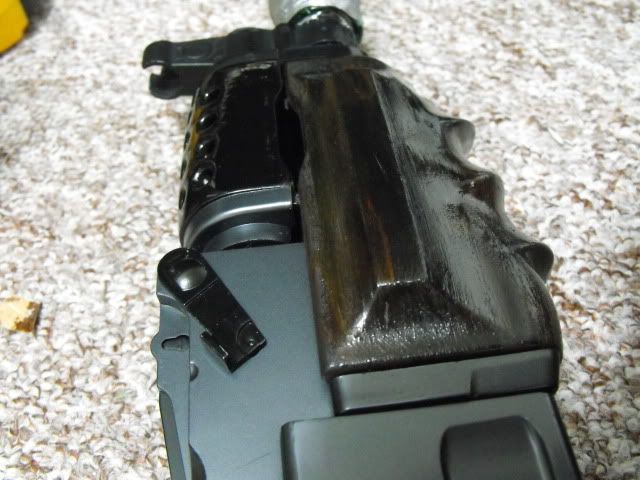 My painted wood! Finally got it in a good picture.
Sits very nicely on a one point sling.
Now hopefully my cheap shitty tappet plate doesn't break on me and everything works properly.